Come Paddle with Us!
Open kayak paddles and guided river trips offered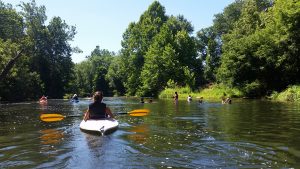 There's no better way to appreciate the beauty and wildlife of the upper Raritan River than from a kayak.
The public is invited to join local watershed watchdog Raritan Headwaters Association (RHA) on a series of nine Sunday paddle adventures this spring, summer and fall.
"We'll have open paddle sessions, which are great for beginners, and our annual Raritan River Sojourn, a series of longer guided trips for more experienced paddlers," said Lauren Theis, education director for Raritan Headwaters.
Kayaks can be provided to those who don't own them. Wanting to encourage interested residents to participate in paddling activities, Raritan Headwaters recently raised funds to purchase a fleet of 12 kayaks.
"We want everybody to know and love our local rivers the way we do," explained Theis. "The Raritan River is the longest river completely within New Jersey, and paddling it is a great way to get to know the region's incredible scenery and wildlife."
Open Paddles
There will be two "open paddle" sessions in gentle waters, at which beginners can learn to kayak and intermediates can improve their skills or just enjoy a relaxing paddle. Using its new kayaks, Raritan Headwaters can accommodate up to 12 paddlers at a time for each one-hour time slot. Each person who signs up can reserve a kayak for one hour.
Advance registration is recommended to reserve a time slot, but paddlers may also drop by for a first-come, first-served paddling opportunity. The event is free, though donations are appreciated and will support the organization's education and outreach programs.
Open paddles will be held from 9 a.m. to 2 p.m. on the following dates: Sunday, May 6, near the Red Mill in Clinton; Sunday, Sept. 16, near the Castle Theater in Budd Lake;
To register, go to RHA's calendar of events and click on the desired date.
Raritan River Sojourn
Explore the Raritan River's upper reaches on a series of guided kayak and canoe paddles co-sponsored by Raritan Headwaters and the Appalachian Mountain Club. Each "Raritan River Sojourn" trip will cover several miles of river and will take from six to seven hours, including a stop for a picnic lunch.
Sojourn trips will be held starting at 11 a.m. on five Sundays from April through August:
Sunday, April 22 – Seven miles along the North Branch of the Raritan, from Bedminster to North Branch;
Sunday, May 20 – Ten miles along the South Branch, from Clinton to Dart Mills near Flemington;
Sunday, June 10 – Eight miles along the South Branch from Flemington to Neshanic Station;
Sunday, July 15 – Ten miles along the South Branch, from Three Bridges to Branchburg;
Sunday, Aug. 12 – Five to six miles along the Black River in Chester, from Pleasant Hill Road to the Cooper Gristmill.
A suggested donation of $20 will be collected at the start of each paddle. For more information, go to www.raritanheadwaters.org/paddle/ or contact Theis at ltheis@raritanheadwaters.org or 908-234-1852 ext. 314.
---
Stay Connected!

News Blog