Preservation of land is critically important to the protection and improvement of water quality, wildlife habitats, natural landscapes, and the wellbeing of all those living, working and playing in the watershed region.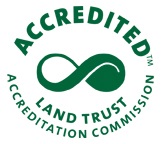 Raritan Headwaters Association is an Accredited Land Trust. We are honored to have been accredited by the Land Trust Accreditation Commission for demonstrating that we meet national quality standards for protecting important natural lands. Learn more here about Accreditation.
Over five decades we have worked to preserve land that protects important water resources. RHA owns 10 wildlife preserves, holds 33 conservation easements and, in partnership with others, preserved nearly 7,000 acres of critical watershed lands.
Preservation Tools
Conservation Easement
Donating Land
Land Purchases
Farmland Preservation
We urge landowners to work with their tax and legal advisors to explore land preservation options tailored to their needs.