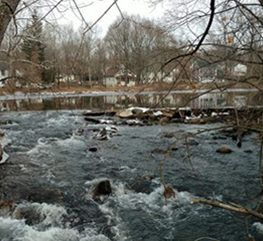 Large ice floes on the South Branch of the Raritan River apparently took down part of the Cole's Mill Dam in Califon this past weekend, affecting water levels in the mill pond upstream but not causing any damage downstream.
"Ice is a very powerful thing," said Bill Kibler, a Califon resident and policy director for Raritan Headwaters. He said the ice toppled about 30 feet of the dam, which is constructed of granite and concrete.
Due to the dam breach, the water level in the mill pond dropped 8-10 inches over a 24-hour period. "We're concerned that if we get heavy rains, it could impact folks downstream and could erode River Road," said Bill. Potentially, sediment from the pond could wash downstream and affect wildlife in the Ken Lockwood Gorge, he added, but so far that has not happened.
Bill notified the state Department of Environmental Protection, and inspectors from its dam safety and Fish & Wildlife divisions came to inspect the dam on Monday. Raritan Headwaters will continue to coordinate with the DEP and affected municipalities to monitor the condition of the dam.
"Eventually, the dam will have to be either repaired or removed," said Bill. "It will continue to erode with more ice or storms."
Should the dam's private owners decide to remove it, there could be an opportunity to restore the mill pond to a free-flowing river, which would provide a benefit to fish and wildlife, said Bill. Currently, because the pond is shallow, in summer the water becomes warm and susceptible to high coliform bacteria levels.