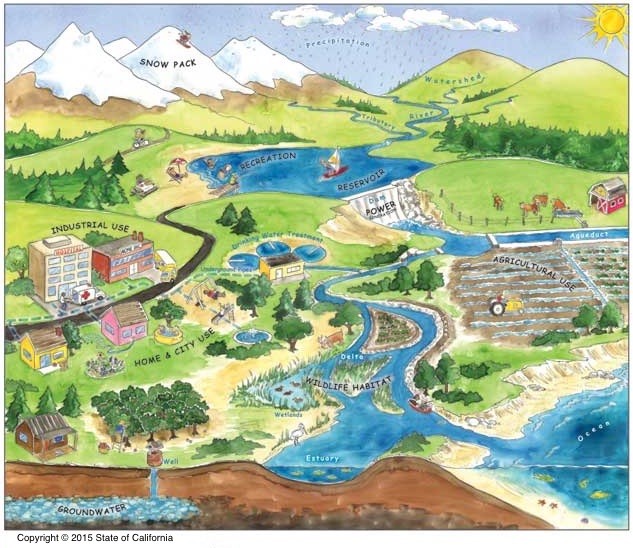 Simply put, a watershed is the area of land that drains into a body of water such as a river, lake, stream or bay. In our watershed, all water drains into the North Branch and South Branch of the Raritan River.
A watershed includes not only the surface water in streams, rivers, lakes and ponds, but also the groundwater in our aquifers and the land on which every drop falls. The water that comes out of our taps comes from all these sources.
Watersheds are shaped by the natural contours of the land: hills and valleys. Think of a watershed as a basin, formed by the highest ridges surrounding a network of streams. Every raindrop falling inside these high points drains into the watershed.
Forest, meadow and wetland ecosystems in a watershed naturally filter and replenish water. What we do on the land and in our homes, yards, businesses, schools, parks and communities has the potential to affect the health of our watershed and the quality of our drinking water.
Raritan Headwaters protects the North and South Branch Raritan watershed in the Upper Raritan River region. At 470 square miles, it is New Jersey's largest watershed, including all or part of 38 municipalities in Hunterdon, Somerset and Morris counties.
One of the best-known boundaries of our watershed is located at the landmark Hilltop Church in Mendham. All rain hitting the front of the church drains into streams feeding the North Branch of the Raritan River, while all rain falling on the back of the church flows into the neighboring Passaic River watershed!
Large watersheds contain smaller watersheds, sometimes referred to as subwatersheds or sub-basins. The Upper Raritan watershed is made up of two smaller watersheds, the North Branch and South Branch of the Raritan River, each of which has many subwatersheds.
The Upper Raritan watershed is part of the larger Raritan Basin, which also includes the Lower Raritan and Millstone watersheds. Covering 1,100 square miles, the Raritan Basin is about the size of Rhode Island! Water from the Upper Raritan flows into the Lower Raritan and meets the Atlantic Ocean in Raritan Bay.