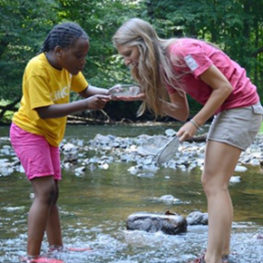 This summer, 300 city children attending the Greater Newark LifeCamp in Pottersville will have the opportunity to discover and learn in nature's outdoor classroom, thanks to a Bogs 2% for Outdoor Education Grant to Raritan Headwaters Association (RHA).
Raritan Headwaters, based in Bedminster, received $5,000 to support its environmental education program, which offers young campers from Newark hands-on lessons along the rural Lamington River. Now in its fifth year, the six-week program introduces children to natural ecosystems, watersheds, the water cycle and environmental stewardship.
"We try to make environmental education fun and engaging for kids who have never waded in a river before," said Cindy Ehrenclou, RHA's executive director. "Campers look for crayfish under rocks, spy on fish swimming in the river and use nets to scoop up macroinvertebrates, the little critters found in streams with clean water."
In addition, children learn about the sources of their drinking water, the connection between upstream and downstream river systems, how human behavior affects water quality, and ways they can help protect natural resources.
The grant program is funded in part by Bogs, which makes waterproof footwear, and administered by the Outdoor Foundation, a national nonprofit that inspires future generations of outdoor enthusiasts.
"At Bogs, we live to get outside. And we think every child should have the opportunity to do so, too," said David Cook, VP of Marketing at Bogs. "We're thrilled to partner with the Outdoor Foundation to provide grants to remove financial barriers to getting outdoors, so all kids can grow and learn outside."
"We're very grateful to Bogs and the Outdoor Foundation for supporting Raritan Headwaters' summer education program at the LifeCamp," said Ehrenclou. "We love being there and teaching young people about our most precious resource – water."
The grant will help RHA pay professional naturalist educators and buy equipment such as nets, buckets, petri dishes and laminated cards for identifying macroinvertebrates.
Bogs' 2% for Outdoor Education funding will provide a total of $60,000 to bring nonprofit organizations' project ideas to life and, with a donation of 500 waterproof boots, keep youth participants' feet warm and dry while they fall in love with the natural world.
Raritan Headwaters is one of only 16 nonprofit organizations across the nation to receive a Bogs grant this year. "The Outdoor Foundation believes in supporting innovative on-the-ground projects that make lasting change," said Ivan Levin, Deputy Director of the Outdoor Foundation. "Thanks to support from Bogs, we are investing in localized projects that increase outdoor participation and ultimately create healthier, more active communities."
In addition to Raritan Headwaters, 2018 nonprofit grant recipients include: Abundant Beginnings; Anacostia Watershed Society; Bennett Preschool-YMCA of the Rockies; Boys & Girls Clubs of Southeastern Michigan; Ecology in Classrooms & Outdoors; Friends of Trees; Greenwell Foundation, Inc.; Kestrel Educational Adventures; Lakes Environmental Association; Mountain Roots; Opal Creek Ancient Forest Center; The Mountaineers; Three Rivers Park District Foundation; Tunbridge Central School; and Washington Outdoor School, a project of RTown Community.
Projects were chosen based on their innovation, likelihood of increasing outdoor participation, number of youth impacted, sustainability and budget factors.