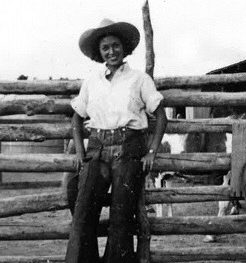 Her name was Elizabeth Mead Merck, but everyone in the community knew her simply as "Betty."
As a trustee and volunteer for Raritan Headwaters Association (RHA), Betty was among the first to roll up her sleeves and pitch in when there was work to be done. An avid horsewoman and environmentalist, she was generous in her support of RHA's mission to protect clean water and the local countryside.
After Betty passed away in 2015 at the age of 95, her family honored her memory with a tribute gift to Raritan Headwaters. The donation has been used to make improvements to the brick cottage at the organization's Fairview Farm Wildlife Preserve, which now houses RHA's science and education departments and a new community meeting room.
Raritan Headwaters will pay tribute to Betty on Saturday, June 2, by holding "Betty Day" – a full morning of activities and an evening fundraiser at Fairview Farm.
"Betty's conservation ethic and commitment to preserving land has made a significant impact on the quality of life here in the Raritan headwaters region," said Cindy Ehrenclou, executive director. "We want to celebrate her life and show the community the great things Raritan Headwaters has been able to do because of the generosity of Betty and her three children – Anthony, Josie and Laddy Merck."
Morning Family Activities
From 8 a.m. to noon, Betty Day will feature bird walks for both children and adults, kayak paddling in the Fairview Farm pond and guided explorations of trails and stream habitats. Children will make wildflower "seed bombs" and learn how to keep a nature journal. Adults are invited to tour Fairview Farm's bird and butterfly garden and relax with a streamside meditation. Light refreshments will be served. The cost is $20 per carload.
Cocktails and History Lesson
The celebration of Betty's life and contributions will continue at 5:30 p.m. with a festive cocktail reception at Fairview Farm's historic barns. Historian Barry Thomson, co-author of two local history books, will speak at 6 p.m. about the history of Fairview Farm, which was once a dairy farm. At 7 p.m., there will be a tribute to Betty Merck, for whom the science and education building is being named. Food will be provided by BEX Catering, and the Jugtown Mountain String Band will perform their signature mix of bluegrass, folk and blues music. Tickets are $150 per person.
About Betty Merck
Born in Canada, Betty grew up in Lake Forest, Illinois, and moved to Bedminster with her husband, George, in the 1940s. They called their farm "The Fields."
An enthusiastic gardener, Betty grew her own flowers and vegetables, starting seeds in her greenhouse. She loved tending to her fields, trees and animals. She was a trustee of the Upper Raritan Watershed Association – one of Raritan Headwaters' parent organizations – for many years.
As a Bedminster Township Committee member from 1975 to 1989, she worked to protect the area's rural character. She later served on the Bedminster Township Open Space/Farmland Advisory Committee. After her death, Bedminster Township dedicated a special bench at River Road Park engraved with one of Betty's favorite expressions: "It is nice to be important but more important to be nice."
Betty was also a longstanding member of the Garden Club of Somerset Hills, served several terms as the Master of the Essex Fox Hounds and was a trustee for the Nature Conservancy and the Lamington Conservancy. In 2003, she placed a conservation easement on "The Fields," preserving 87 acres of land in perpetuity.
About Raritan Headwaters
Raritan Headwaters has been working since 1959 to protect, preserve and improve water quality and other natural resources of the Raritan River headwaters region through science, education, advocacy, land preservation and stewardship. This 470-square-mile watershed, the largest in New Jersey, provides clean drinking water to 400,000 residents of 38 municipalities in Somerset, Hunterdon and Morris counties and beyond to some 1.5 million homes and businesses in New Jersey's densely populated urban areas.
RHA has achieved statewide impact and is a proud recipient of the 2015 and 2016 Governor's Environmental Excellence Award. To learn more about Raritan Headwaters, please visit www.raritanheadwaters.org or call (908) 234-1852.