Employees from JP Morgan Chase came to Fairview Farm at the end of September and made a huge impact on RHA's invasive plant stewardship work on our preserves.  The volunteers worked in harsh conditions in one of our largest grassland fields to remove woody Autumn Olive that has snuck into our fields over the years.  We can't thank this group enough for the amount of sweat equity they put in during their time here.
There's a lot to do to get ready for our Old Fashioned Country Fair, and Janssen employees came to the rescue! Volunteers from Janssen Cares came to Fairview Farm in early October to help with setup, tossing hay bales, creating fun fall scenes around the campus and showing just how strong their backs were hauling tables and tents for the final setup leading up to the big day.  RHA staff cannot thank these hard workers enough for helping us get ready for the fair in record time!
After Country Fair wrapped up, College Hunks Hauling Junk put their muscle into helping with the teardown. They hauled hay bales, moved mountains of tables and chairs and overall made fast work of our initial post-event cleanup.
Fifty volunteers from Wyndham swarmed Fairview Farm to help finish the Country Fair cleanup, hauling more hay bales, tents, tables, chairs and even corn stalks.  They also made a huge dent in one of our largest grassland fields, fighting back invasive woody plants that are slowly encroaching on specific grassland habitat we are preserving.  It is always amazing how much work gets done in only a few hours when you have so many hands helping, and with such enthusiasm!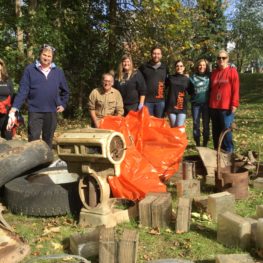 A group of 10 volunteers from Fiserve asked RHA how they could help their "back yard" with a stream cleanup project.  RHA Volunteer and Outreach Program Manager Trish McGuire and I scouted the Dead River, which happened to run right through Fiserve's office park.  During the scouting mission, we found an old farm dump, containing trash and debris from the 60's and 70's, more modern trash from storm water runoff and a large amount of construction debris.  Unfortunately, we almost always find tires, cans/bottles and other every day trash that just doesn't seem to make it into a receptacle.  After a hard day's work cleaning up the river and surrounding area, the tires, construction debris, an old scale and plow from what looks like a farming operation and bags of trash and recyclables were all ready for pick up by the township DPW.  Opportunities like this show us that sometimes you don't have to go farther than your backyard to make a huge impact.
Students and teachers from Bonnie Brae have been working on RHA preserves on a weekly basis since September and RHA can't believe the amount of work this group gets done every time they're here.  From removing an old fence at our Fox Hill Preserve and attacking the invasive plants that called it home, to fixing the driveway at Fairview Farm before Country Fair, to trail upkeep and maintenance.  Over the winter, the students will build bird houses for RHA to put up on our preserves.  We cannot thank these students enough for their hard work and determination to finish the projects we give them.
A group of students and teachers from Pingry visited Fairview Farm in October and had an opportunity to learn about vernal ponds and wetlands, how they impact our ecosystem and get a lesson on how to maintain these sites.  The students worked hard removing invasive plants and woody bushes from around RHA's largest wetland on Fairview Farm.  An opportunity to host students on our preserves, put them to work and help them learn to be good environmental stewards is a perfect match for both RHA and the school.