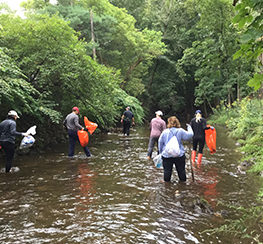 A two-mile stretch of the Peapack Brook is cleaner and healthier, thanks to the efforts of Raritan Headwaters Association and the U.S. Golf Association.
About 30 staff members from the U.S. Golf Association headquarters in Liberty Corner cleaned up trash in and along the Peapack Brook this fall during a volunteer work day with Raritan Headwaters Association.
"We felt like water warriors in that stream," said Janeen Driscoll of Basking Ridge, director of communications for USGA. "The flow of the water was pretty strong in some areas, and the water was deep in places. Some of the trash you find is not in easy places to get. You feel like an adventurer in your own stream."
"Collectively we picked up a lot of trash, bottles, cans, bags, metals, and other random objects that had no business in the river," said Ryan Hutchison of Morristown, coordinator of U.S. Open merchandizing operations. "It was eye-opening to see how much we accumulated."
Corporate volunteer days like the one with the USGA team supplement Raritan Headwaters' massive stream cleanup day each April. This past spring, 1,660 volunteers working at 56 stream sites throughout the watershed picked up 13.5 tons of trash.
"We're very grateful for the help of our friends from the U.S. Golf Association," said Cindy Ehrenclou, executive director. "Every bit helps, both locally and downstream."
She noted that wind, rain and snowmelt wash litter into local streams, and it eventually can find its way as far as the ocean. "It's a threat to drinking water quality, and a hazard to wildlife. So the volunteers who helped out had a much farther-reaching impact than they might have imagined."
Driscoll said it was enlightening to learn how far trash in rivers and streams can travel. "We were in the middle of the stream talking about where these waters go," she said. "This piece of metal or piece of wood I was picking up was impacting places downstream."
She added that stream cleanups fit in well with the USGA's commitment to water conservation and sustainability. The organization, she said, has been able to "reduce golf's footprint" by developing turf grasses that need less watering and produce cleaner stormwater runoff.
Driscoll and Hutchison both expressed interest in helping out again, possibly at Raritan Headwaters big stream cleanup event in April 2019.
"I was pleasantly surprised at how easy and enjoyable it was. All of the materials, gloves and bags were provided," said Hutchison. "I would highly recommend this volunteering program to organizations looking to make an impact on their local environment and I look forward to working with the RHA team again soon!"
"It hit home after we put all our trash together, how much can accumulate," added Driscoll. "I came home and told my husband, we've got to do this. You feel like you're doing something really worthwhile."
About Raritan Headwaters
Raritan Headwaters has been working since 1959 to protect, preserve and improve water quality and other natural resources of the Raritan River headwaters region through efforts in science, education, advocacy, land preservation and stewardship. RHA's 470-square-mile region provides clean drinking water to 300,000 residents of 38 municipalities in Somerset, Hunterdon and Morris counties and beyond to some 1.5 million homes and businesses in New Jersey's densely populated urban areas.
Raritan Headwaters recently was accredited by the national Land Trust Accreditation Commission, meaning it has been recognized as a strong and effective organization committed to professional excellence and maintaining the public's trust.
To learn more about Raritan Headwaters and its programs, please visit www.raritanheadwaters.org  or call 908-234-1852.