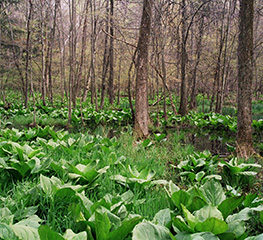 Headwaters streams – the very waterways that give us our name – have been threatened since the rollback of environmental protections that began in 2017.
At issue is a proposal by the U.S. Environmental Protection Agency and the Corps of Engineers to redefine "waters of the United States" so as not to include non-navigable waters like isolated wetlands and small tributaries. Streams that are dependent on rainfall and wetlands, not physically connected to year-round waterways, will no longer be protected –  imperiling drinking water, endangered species, and ecosystems across the country.
If you're going to protect the quality of navigable waters, you've got to protect the streams and wetlands that feed them. The best way to protect water quality is to protect headwaters. It's easier to keep water clean in the headwaters than to try to fix polluted waters downstream.
All of our headwaters tributaries rely on the wetlands that serve them by holding and filtering the water before it gets into our main streams.  By lifting the protections for tributaries and wetlands, we are disregarding the science that shows their interconnectedness.
If the proposed changes to the Clean Water Act are allowed to stand, many wetlands and streams will face added pollution from development, farming operations, and industry.
With a new majority in Congress, there's a chance to stop the proposed changes to the Clean Water Act. I'm asking residents of the Raritan Headwaters region to contact your Congressional representatives. Tell them that it's critically important to protect our drinking water. We want the rule strengthened, not weakened.
The public comment period ends on Monday, April 15. To find and contact your Representative, go to https://www.govtrack.us/congress/members/NJ.
Congress needs to step up legislatively and define "waters of the United States" so that it's not open to interpretation. We need to define it clearly and very strongly so that our waters are protected.