(This article appeared online May 1 in New Jersey Hills' Observer Tribune. Story and photo by Mark Kitchin.)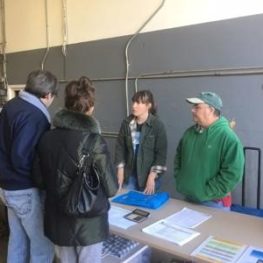 Washington Twp – Nobody wants pesticides, lead, bacteria and nitrates in their drinking water and on Saturday morning 47 residents took advantage of an opportunity to test their tap water by purchasing kits from the Raritan Headwaters Association.
It is the third year that the Environmental Commission has teamed up with the RHA to provide test kits.
The public works facility on Rock Road was a very busy place to be on Saturday morning. Along with water testing supplies, 175 tree saplings were given away, provided by the state Department of Environmental Protection's Division of Parks and Forestry. The saplings, which were given away five at a time, were all taken within 30 minutes. Black gum, dogwoods, oaks and pines were among the variety of saplings provided.
Residents also could have confidential documents shredded as a lead in to Clean Communities Week. Some residents who were looking for trees or shredding documents considered purchasing the well testing kits that were offered by the Raritan Headwaters, a non-profit organization that focuses on water preservation and protection.
"We encourage home owners with private wells to test every year for coliform bacteria and nitrates,'' said RHA representative Mara Tippett. "Some people use both public water and well water if they live in older homes built before 1987. We encourage them to test for lead. That is a pipe issue. We have also seen elevated levels of gross alpha which is a strain for uranium and radium as well as radon in well water. We encourage residents to do that at least once so they don't have an issue.''
Nine different test kits were available for $60 to $135. The most expensive test for pesticides cost $135 and tests for 18 different chemicals.
"We have nine different test options from a basic kit that will check for fecal coliform bacteria and nitrates to other options as well.'' said Mark Napolitano of the Environmental Commission. "You can test if you have particular water issues, cloudy water, discoloration in your water, odor in your water or are testing for the possibility of some harmful contaminants that may come from nearby industrial operations or agricultural operations where pesticides and herbicides were used.''
Raritan Headwaters collected samples on Monday from residents who tested their water. The results take a couple of weeks to process. The RHA uses a state certified laboratory to do all the testing and they recommend it be done once a year.
Tests Available
Those who missed Saturday's event can call Raritan Headwaters at their offices in Flemington and Bedminster. The organization can have kits ready for them in their offices. They also take samples back every week at those two offices. For more information, visit www.raritanheadwaters.org.
It was the concern of living in farm country that made up the mind of Ruth Babula of Indian Run to buy several kits.
"I bought multiple tests,'' Babula said. "We are in our house 25 years and we've never had it done. Indian Run is above a farm on Zellers (Road). The farm could have used a lot of pesticides and even if I am on a hill, my well could go deep enough to pick up those pesticides.''
Curiosity also brought West Valley Brook couple Karen and Larry Wardrop to consider testing their water.
"We've been in the house for 30 years now and we've never done it,'' Larry Wardrop said. "I'm curious more than anything. It (the testing directions) seems very simple. The people here were very informative. I got the basic test and then I want to test for lead, which is my biggest concern.''
Wardrop said water testing should be a service provided by the township.
"It's a lot of money,'' Wardrop said. "I think that the township should pay for this. We pay a lot of money in taxes and we get no sewer, no water, nothing and my taxes are over 10 grand a year. You would think that you would at least get your water tested.''
Kathryn Higgins, a Long Valley resident for 18 years, was hoping to pick up some trees. Although she missed the tree giveaway, Higgins started talking to Tippett and Napolitano and ended up buying some water test kits.
"I heard about the water testing before and I have been wanting to do it,'' Higgins said. "I got the basic and the lead and the radon. I have well water and septic. We haven't tested since we moved in. I live down towards the Califon side.''
"It's not cheap but it affects your health. I'm only willing to go so far. I'm not willing to dig up pipes or put new pipes in but if I could get filters to protect my family then that is what I will do.''
Overall, RHA representatives were pleased at the response from Saturday's event. The 47 residents who purchased test kits more than doubled the 20 who bought kits last year. Overall, many residents seemed pleased at the opportunity to get some free tree saplings, shred old papers and look into well testing all in one morning.
"I think its great,'' Babula said. "I like multi-tasking things.''