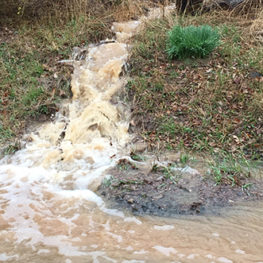 Last summer was a difficult one for many of New Jersey's lakes and reservoirs. Harmful algal blooms (HABs) left many waterways unsafe for swimming, fishing and boating, including Lake Hopatcong, Spruce Run Reservoir, Greenwood Lake and Swartswood Lake.
What can be done to make sure harmful algal blooms don't return in the summer of 2020?
Municipal officials and interested citizens are invited to learn about harmful algal blooms and how they can be prevented at a free seminar from 3-5 p.m. Thursday, Jan. 9, at the Randolph Township Library, 28 Calais Road.
The seminar, "Addressing Stormwater Pollution & Harmful Algal Blooms in your Municipality," is sponsored by Raritan Headwaters Association (RHA), the region's nonprofit watershed watchdog.
Presenters will be Victor Poretti, section chief of the New Jersey Department of Environmental Protection's Bureau of Freshwater and Biological Monitoring; Dr. Chris Obropta of Rutgers University's Water Resources Program; and Bill Kibler, policy director of Raritan Headwaters Association.
Register online here. For questions, contact Dr. Kristi MacDonald, RHA's director of science, at kmacdonald@raritanheadwaters.org or 908-234-1852, ext. 322. The seminar is free but donations are encouraged.
Last year's harmful algal blooms were believed to be triggered by heavy rains and warm temperatures. Frequent rainstorms created runoff, which carried nutrients from lawn fertilizers and septic systems and other sources into lakes. Warm weather heated the lakes and reservoirs, leading to blooms of cyanobacteria, commonly known as blue green algae.
The Jan. 9 seminar will provide practical tools to understand and address stormwater runoff, improve water quality and prevent harmful algal blooms. Topics will include an update on recent HABs in the region, new state stormwater regulations, green infrastructure/impervious cover reduction plans for municipalities, and funding sources for stormwater projects.
About Raritan Headwaters
Raritan Headwaters Association (RHA), based in Bedminster, has been working since 1959 to protect, preserve and improve water quality and other natural resources of the Raritan River headwaters region through efforts in science, education, advocacy, land preservation and stewardship.
RHA's 470-square-mile region provides clean drinking water to 300,000 residents of 38 municipalities in Somerset, Hunterdon and Morris counties and beyond to some 1.5 million homes and businesses in New Jersey's densely populated urban areas.
To learn more about Raritan Headwaters, please visit www.raritanheadwaters.org or call 908-234-1852.