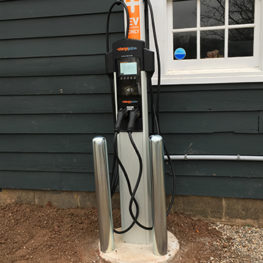 Raritan Headwaters Association (RHA), the region's watershed watchdog, just installed a dual-port electric vehicle charging station at its Fairview Farm headquarters at 2121 Larger Cross Road in Bedminster Township. Conveniently located just off Route 206 and minutes from Interstate 287 in Bedminster, Fairview Farm is open to the public daily from dawn to dusk.
"Visitors are invited to charge up their electric vehicles while they explore our beautiful 170-acre wildlife preserve," said Debra Dolan, RHA's director of operations. "We are delighted to be a leader in New Jersey's growing network of electric vehicle infrastructure and to help with the effort to cut emissions and protect air quality in our state."
The new charging station, located by the property's historic barn complex, was made possible by a private donation as well as funds awarded to Raritan Headwaters from the New Jersey Department of Environmental Protection's "It Pays to Plug In: NJ's Electric Vehicle Charging Grant" program. There's no fee to use the charging station, but donations to RHA are welcome.
A former dairy farm, Fairview Farm has been the home of Raritan Headwaters since 1973. The campus includes a white clapboard farmhouse that serves as the organization's administrative office, a brick cottage that serves as the science and education building, a science lab in a converted milk house, and classrooms for educational programs in the restored barn complex.
"Fairview Farm is a fantastic place to spend an hour or two, so I hope the community will take advantage of the opportunity to charge their cars while they enjoy our property," said Executive Director Cindy Ehrenclou. Trail maps and bird-watching checklists are available by the charging station and at the kiosk next to the farmhouse.
About Raritan Headwaters
Raritan Headwaters has been working since 1959 to protect, preserve and improve water quality and other natural resources of the Raritan River headwaters region through science, education, advocacy, land preservation and stewardship. RHA's 470-square-mile region provides clean drinking water to 300,000 residents of 38 municipalities in Somerset, Hunterdon and Morris counties and beyond to some 1.5 million homes and businesses in New Jersey's densely populated urban areas.
To learn more about Raritan Headwaters and its programs, please visit www.raritanheadwaters.org or call 908-234-1852.