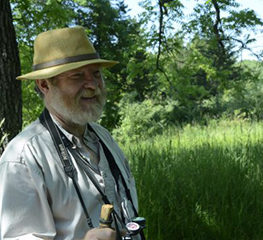 Most Monday mornings, no matter the season or the temperature outside, Alan Rennie can be found with a pair of binoculars around his neck, walking the meadows and trails of the Fairview Farm Wildlife Preserve.
He's joined on these outings by bird enthusiasts ranging from novices to experts.
For more than three years, Rennie has led free Monday bird walks at Fairview Farm, home of the nonprofit watershed watchdog Raritan Headwaters Association. Winter bird walks begin at 7:30 a.m.
His goal during these leisurely rambles is to acquaint local residents with the many types of bird habitat found within Fairview Farm's 170 acres: forest, meadow, wetland, pond and garden.
"It's a diverse piece of property, and it's quiet and peaceful," said Rennie, a resident of Califon. "It's a great place to walk by yourself or with friends."
Not only does he help less experienced birders spot new species, but they also help him. "Instead of one pairs of eyes, I might have 24. I have extra pairs of ears, too," explained Rennie, who keeps careful notes on all birds seen and heard.
His observations – and those of his fellow birders – are now part of a first-ever inventory of birds seen and heard at Fairview Farm. The inventory is available to visitors as a pocket-size printed checklist.
It lists all species seen there, the seasons when they're most likely to be spotted, and their relative abundance or scarcity. As of last fall's printing there were 160 species on the inventory, but one additional species has been documented at Fairview Farm since then.
Birds observed this winter at Fairview Farm include a pair of resident red-shouldered hawks, white-throated sparrows, juncos, American tree sparrows, bluebirds and Carolina wrens. Huge flocks of robins and grackles were also spotted recently.
"There used to be a time when people thought robins were the first returning bird of spring," he remarked. "But these are robins that come from the north, from eastern Canada." The grackles are also arriving from points north.
Two birds not usually seen at Fairview Farm were spotted recently: a golden eagle (No. 161 on the bird inventory) and a "gray ghost," the nickname for a male northern harrier.
The golden eagle was seen on a bird walk in late November, toward the end of the hawk migration. "This immature golden eagle soared above our heads for 20 minutes, giving everyone a good view," Rennie said. "That was so spectacular."
Just as spectacular was the grey ghost, which flies silently over grasslands in search of rodents. "The male harrier is the most beautiful powder gray-blue, with yellow eyes and black wing tips," said Rennie. "They are magnificent, and to see one is rare."
Rennie loves birding in the winter, when many birds can be easier to see without leaves on the trees. "And you've got the beautiful clear skies and low humidity," he said.
But, really, there's no season he doesn't like.
"We walk year round, in all weather," said Rennie, who was honored as RHA's volunteer of the year for 2018. "I like to show people how wonderful it is to walk in the rain. The worst that happens is you get wet."
According to the bird inventory, the most abundant and common species found at Fairview Farm are northern cardinals, song sparrows, red-bellied woodpeckers, blue jays, American crows, Baltimore orioles, eastern bluebirds, Carolina wrens, red-winged blackbirds, indigo buntings, mourning doves and red-tailed hawks.
Uncommon and occasional species spotted at Fairview Farm include Cooper's hawks, American woodcocks, pileated woodpeckers, American kestrels, ring-necked pheasants, great horned owls, black-throated green warblers, American redstarts and wild turkeys.
About Raritan Headwaters
Raritan Headwaters has been working since 1959 to protect, preserve and improve water quality and other natural resources of the Raritan River headwaters region through efforts in science, education, advocacy, land preservation and stewardship. RHA's 470-square-mile region provides clean drinking water to 300,000 residents of 38 municipalities in Somerset, Hunterdon and Morris counties and beyond to some 1.5 million homes and businesses in New Jersey's densely populated urban areas.
To learn more about Raritan Headwaters and its programs, please visit www.raritanheadwaters.org or call 908-234-1852.