Our mission at Raritan Headwaters is "Clean, safe water for all." We work hard to protect both human health and the precious natural resources – groundwater and surface water – that provide us with clean drinking water.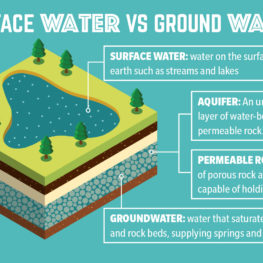 Four out of five households in the Upper Raritan River Watershed depend on private wells tapping into groundwater as the source of drinking water. Many public water systems serving the region also rely on groundwater. In addition, water in local headwaters streams flow into the Raritan River, a source of tap water for 1.5 million people in urban and suburban areas down stream of us.
While public water systems are required to test their water to make sure it's safe to drink, no such requirement exists for drinking water from private wells.
That's why it's vitally important for households with private wells to test their water once a year for common contaminants that can harm human health. These contaminants include coliform bacteria, nitrates and arsenic.  All families in older homes, even those hooked up to public water, can benefit from water testing, as lead can leach into drinking water from pipes, fixtures and water lines made of lead.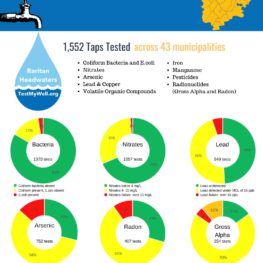 Since 1974, RHA's well testing program has allowed residents to learn about the safety of their drinking water. Testing is done by a state-certified private lab, and water testing kits are available at Raritan Headwaters' offices in Bedminster and Flemington. In addition, Raritan Headwaters partners with many municipalities in organizing "community" well testing events, with test kits available at convenient locations in local towns.
If contaminants are found in your drinking water, Raritan Headwaters staff members can offer advice on options like filter systems to remove contaminants and make your water clean and safe to drink.
In addition to helping individual households, the well testing program also allows Raritan Headwaters "see through the ground" to monitor the quality of the water in underground aquifers. For over 30 years, RHA has maintained a database of well test results that enables us to track changes in groundwater quality over time.  We are able to produce a groundwater report card based on well test data.
To read the recently published report "The Quality of Our Groundwater," which details long-term trends, click here.
To learn more about our Well Testing Program and to learn how to test YOUR water, visit our Well Testing page.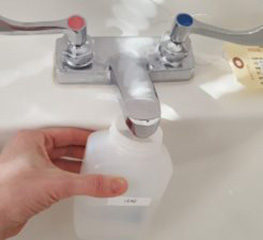 For more information, contact Mara Tippett, Watershed Scientist and Well Test Program Manager, at mtippett@raritanheadwaters.org.
We accomplish our mission of protecting drinking water through outreach, education, and collaboration with our municipal partners. To learn more about groundwater and how you can help us protect it click here.