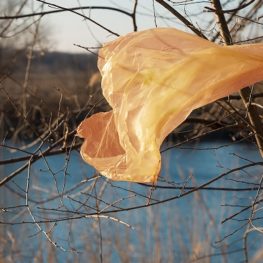 On Thursday, Sept. 24, the New Jersey Assembly passed the most comprehensive ban on throw-away plastic products in the nation.  The bill was also passed in the Senate, so it now goes to Governor Murphy for his signature.
The bill will prohibit grocery stores and other businesses from handing out single-use plastic bags.  Additionally, larger stores (over 2,500 square feet) will be barred from handing out paper carryout bags.  The bill bans polystyrene foam containers. It allows restaurants to provide plastic straws only upon request.  The bans would become effective 18 months after the Governor signs the bill.
Raritan Headwaters enthusiastically supports this bill and worked hard for its passage.  We have seen firsthand the destructive impact of plastic trash and microplastics in our watershed.
Many thanks to our members and friends who contacted their elected representatives to ask them to pass this bill.  Thanks are also due to Senators Smith and Greenstein, the bill's primary sponsors in the Senate, and Assembly members Pinkin, McKeon, and Kennedy, the bill's primary sponsors in the Assembly.
Please join us in calling Governor Murphy and asking him to sign the bag ban bill as soon as possible. You can call the Governor's office at (609) 292-6000, Tweet him at @GovMurphy, or contact him through his website.