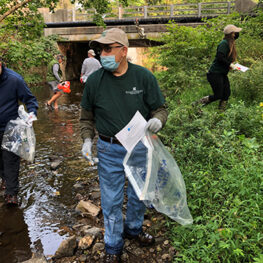 As a child growing up in Peapack, Rosanne Schwab spent a lot of time playing in the Peapack Brook with her friends. Jim Stadtmueller, who grew up in neighboring Bedminster, spent his boyhood playing in the North Branch of the Raritan River, just south of where the Peapack Brook flows in.
Because of their local roots and love of waterways, Schwab and Stadtmueller were excited to be part of an effort by Peapack-Gladstone Bank employees to clean trash and litter from the Peapack Brook and its banks. The volunteer work day in September was organized by Raritan Headwaters Association (RHA), the local watershed watchdog.
"I spent my whole childhood on that stream, so it brought back a lot of memories," said Schwab, an assistant vice president at the bank who now lives in Bridgewater. One good memory was holding her eighth grade birthday party on the brook: "I invited all the girls in my class and we put on rubber boots and walked down the middle of the stream."
"When I was a kid, I would ride my bike over to the Far Hills Fairgrounds and play in the river – and also to Kate Macy Ladd (convalescent center), now Natirar Park," recalled Stadtmueller, a senior director at the bank who now lives in Bernardsville. "The cleanup work is incredibly valuable, and anything I can do to help makes me feel good."
The group of about a dozen Peapack-Gladstone Bank employees worked with RHA staff members on beautifying the stretch of Peapack Brook that runs near the Gladstone train station. Plastic bottles and aluminum cans were the most common items they picked up, but they also removed larger objects like an old car bumper, a big steel spring, a folding camp chair and plastic garden netting.
The day began with an introduction by RHA's volunteer manager, Trish McGuire, who spoke about the harm being done to waterways and wildlife by discarded plastics and how stream cleanups protect water quality.
"We really appreciated having the Peapack-Gladstone Bank employees come out to clean up the stream," said McGuire. "The bank is turning 100 and Raritan Headwaters just turned 60, so we've both been in this community a long time."
Based in Bedminster, Raritan Headwaters regularly organizes cleanups of local streams. Its largest, which takes place in the spring in dozens of locations and draws about 1,800 volunteers, was cancelled this year due to COVID-19. In the absence of the cleanup, RHA has organized smaller volunteer cleanups and has called on local residents to conduct their own neighborhood cleanups.
To learn more about local stream cleanups and see where action has been taken so far, visit the Raritan Headwaters website at https://www.raritanheadwaters.org/stream-cleanup-virtual/.
About Raritan Headwaters
Raritan Headwaters has been working since 1959 to protect, preserve and improve water quality and other natural resources of the Raritan River headwaters region through efforts in science, education, advocacy, land preservation and stewardship. RHA's 470-square-mile region provides clean drinking water to 300,000 residents of 38 municipalities in Somerset, Hunterdon and Morris counties and beyond to some 1.5 million homes and businesses in New Jersey's densely populated urban areas. To learn more about Raritan Headwaters and its programs, please visit www.raritanheadwaters.org or call 908-234-1852.
About Peapack-Gladstone Bank
Founded in 1921, Peapack-Gladstone Financial Corporation is a NJ bank holding company with total assets of $6.3 billion and wealth management assets under management and/or administration of $7.2 billion as of June 30, 2020.  Peapack-Gladstone Bank is a commercial bank that provides innovative wealth management, commercial and retail solutions, including residential lending and online platforms, to businesses and consumers.  Peapack Private, the Bank's wealth management division, offers comprehensive financial, tax, fiduciary and investment advice and solutions, to individuals, families, privately held businesses, family offices and not-for-profit organizations, which help them establish, maintain and expand their legacy.  Together, Peapack-Gladstone Bank, Peapack Private and Peapack Capital, offer an unparalleled commitment to client service.  Visit www.pgbank.com and www.peapackprivate.com for more information.