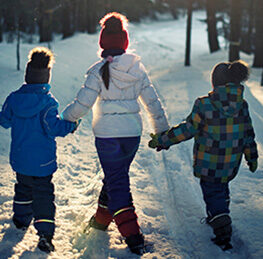 Spending time outside each day is the BEST way to beat the winter doldrums, keep your spirits up and keep Seasonal Affective Disorder (SAD) away!
Some of the happiest countries in the world – including Finland, Denmark, Switzerland, Iceland, Norway, Netherlands, Sweden – experience very cold winters. Their secret is that they don't let the cold get the better of them; folks are outside as much in the winter months as in the summer.
Right now, we're halfway between the Winter Solstice and Spring Equinox – still very much a winter landscape but with a bit of extra daylight each day. If you're feeling the winter blues, be like the world's happiest countries and let the great outdoors work its magic on you!
Here are some tips and ideas for getting outside this winter:
First and foremost – bundle up!
A properly dressed person can stay comfortably outside for as long as they like! It was a wise person that once said, "there is no bad weather, only improper clothing." Dress in layers, wear waterproof boots, a warm hat and gloves, wear a scarf or use your favorite mask to keep your nose and the lower half of your face warm.
Tracking
Whether in mud or snow, winter tracking is a fun way to hone your observation skills, spend time with wildlife and even create stories. Where was that deer going? Was it alone? Was it running or slowly walking along? Look for the zig-zag patterns of deer, bounding rabbits, hopping birds, waddling raccoons and pacing fox prints. You can tell the difference between a domestic dog and a fox because foxes have "perfect walking" tracks; their hind feet step directly into the prints of their front feet, making a neat track called "direct register."
Bird watching
Winter is a wonderful time to look for birds! There are some birds that visit our area only in the winter – birders affectionately call this time of year "weird duck season" because it's the only time you can observe bufflehead ducks, common mergansers, hooded mergansers, gadwalls, northern shovelers and ring-necked ducks. Other winter visitors include dark eyed juncos and pine siskin. Even some of our year-round residents seem to shine in the winter, like the northern cardinal and the family of woodpeckers, including downy, red-bellied, pileated and yellow-bellied sapsuckers.
Spending time birding has been shown to boost mindfulness and empathy, decrease blood pressure and relieve stress. It's easy to set up a backyard or window bird feeding station. Select a couple different feeders with a few different types of seed and wait for visitors. You can even make your own suet with shortening or peanut butter, add nuts, berries and seeds. Press into a mold and freeze or spread on a pinecone and hang up outside! Take notice of how different birds come at different times of day, in flocks or alone, who gets along with who – do they take turns, share, or do they bully others?
Birders of all levels can join the Cornell Lab of Ornithology's Great Backyard Bird Count from Feb 12-15. More info is at www.birdcount.org
Find your sit spot
A sit spot is a place of your choosing that you can easily visit. It can be at a favorite park, looking out a particular window of your house, a spot in your neighborhood – check it out as often as you can! Enjoy a moment or two just observing. How does it change day to day, in very small or big ways? What wildlife is there, and at what times of day? Take a few notes, draw a picture, or simply use your memory to recall how the spot changes day to day and through the seasons.
Make a dried flower bouquet
Meadows are beautiful in winter, too! Search for different shapes of stems and seed heads to make an arrangement. Colors in winter are more subtle than summer but can be just as lovely. Best part – when you're done you can compost it, toss it in a flower bed or in your backyard.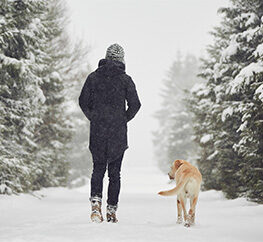 Get out for a hike!
Here are some of my favorite winter hikes in the watershed:
Schooley's Mountain: Beautiful tumbling waterfalls, fun rock scrambles, beautiful views and quiet forest. Bring a walking stick or trekking poles, or wear YakTraks in case of ice.
Fairview Farm Wildlife Preserve: A very special and quiet place with 5 miles of trails through scenic meadows, forest and with streams and a small pond.
Ken Lockwood Gorge: Easy and flat walking surface through the beautiful gorge, hemlock trees and the South Branch Raritan River.
Observe the winter sky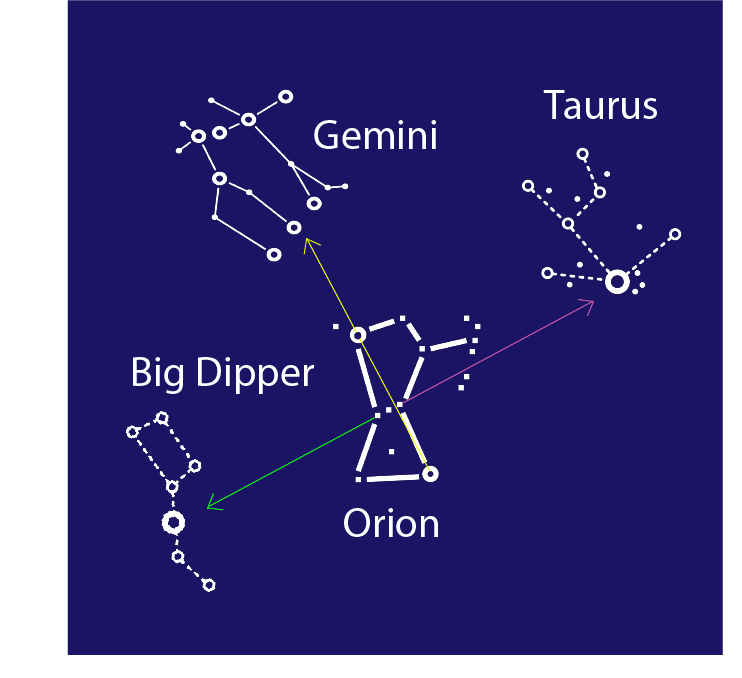 Star gazing is best in winter because there is less humidity in the air, making for clear, crisp skies. The easiest constellations to find in winter
are Orion, the Big Dipper, Taurus and Gemini. You can even use Orion to locate some of these constellations. Don't forget to look for the wide W shape of Cassiopeia, and the full snow moon on Feb 27!