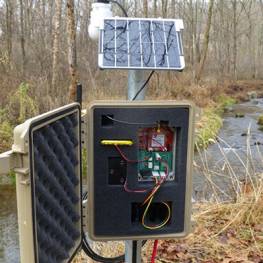 Raritan Headwaters Association (RHA), the region's watershed watchdog, will soon be able to remotely monitor water quality at key stream locations, thanks to a "Tech for Nature" donation from the RBC Foundation USA.
The $20,000 grant will allow Raritan Headwaters to purchase and install "Headwaters Sentinel" climate stations at five targeted stream sites within the upper Raritan River watershed. The solar-powered stations will transmit continuous data on stream water temperature, depth, turbidity and conductivity, an indicator of salt in the water.
"The Raritan River headwaters region provides drinking water for 1.8 million New Jerseyans.  This innovative data collection will expand our ability to track the health of surface water in our streams," said Cindy Ehrenclou, executive director of Raritan Headwaters. "We're committed to protecting clean water against threats from climate change, and we're very grateful to the RBC Foundation for making this technology available to us."
Headwater streams like those in the 470-square-mile Upper Raritan watershed should be cold and oxygen-rich to support biodiversity and supply clean drinking water to downstream communities. But freshwater resources face significant threats from a warming climate and severe weather events. There is a deficit in science to inform decisions on planning for climate resilience and adaptation.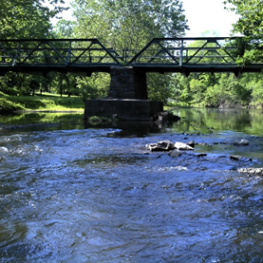 "The principal goal of this project is to collect and present science-based data that will demonstrate how our changing climate is affecting critical source water supplies," said Ehrenclou. "By arming citizens and decisionmakers with usable, defendable information, we can begin the steps to help communities develop inclusive and effective climate action plans."
Data from the new climate stations will complement the data already collected annually by Raritan Headwaters on stream biodiversity, nitrates, phosphates, dissolved oxygen and pH.
RHA's scientists and Geographic Information Systems (GIS) specialist will develop an interactive "Climate Change Dashboard" on the Raritan Headwaters website to display the data collected from the stations. The dashboard will help guide decision-makers in responding to climate threats, and serve as a nationwide model for environmental organizations and communities.
"We are committed to bringing the power of innovative technologies to address and scale solutions to some of the most pressing environmental issues of our time," said Valerie Chort, Vice-President, Corporate Citizenship & Sustainability, RBC. "Through our partnership with Raritan Headwaters, RBC is helping address one of the most pressing environmental issues of our time."
"This generous grant will fund an important project that will keep RHA at the technology forefront as it relates to generating water quality information essential to driving actionable environmental policy," said Richard Smith, Managing Director at RBC and a member of RHA's board of trustees. "I am pleased to be able to count this as the latest collaboration between these two like-minded and cultured organizations. This mutually enriching, multi-year partnership has been the catalyst for a series of waterway cleanup and natural habitat restoration projects which have provided dozens of RBC employee volunteers the opportunity to work alongside RHA scientists and staff and give back to the community and the environment."
About Raritan Headwaters
Raritan Headwaters has been working since 1959 to protect, preserve and improve water quality and other natural resources of the Raritan River headwaters region through efforts in science, education, advocacy, land preservation and stewardship. RHA's 470-square-mile region provides clean drinking water to 300,000 residents of 38 municipalities in Somerset, Hunterdon and Morris counties and beyond to some 1.5 million homes and businesses in New Jersey's densely populated urban areas. To learn more about Raritan Headwaters and its programs, please visit www.raritanheadwaters.org or call 908-234-1852.
About RBC Capital Markets
RBC Capital Markets is recognized by the most significant corporations, institutional investors, asset managers, private equity firms, and governments around the globe as an innovative, trusted partner with an in-depth expertise in capital markets, banking, and finance.
We are well-established in the largest, most mature capital markets with over 7,300 employees across North America, Europe, and the Asia-Pacific region in 70 offices and 15 countries, collectively encompassing more than 80% of global investment banking activity each year.