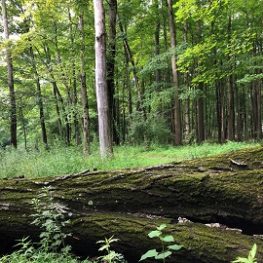 Most people don't give much thought to trees, other than to admire their seasonal beauty and appreciate the shade they provide on a hot summer day.  But they are priceless in protecting a clean water supply. Trees are environmental powerhouses, performing a variety of "ecosystem services" that would otherwise cost society billions of dollars a year.
Forests, especially those that buffer streams, are a major contributor to water quality in our watershed's streams and aquifers. Forests shade streams and keep them cool, stabilize stream banks, absorb and slow floodwaters, and remove sediments and other pollutants from stormwater runoff.
A forest's leafy canopy catches precipitation before it reaches the ground, slowing it down and allowing it to seep into the soil, replenishing underground aquifers. Tree roots hold soil in place, reducing erosion. According to the National Wildlife Federation, a small forest of 100 mature trees can intercept about 100,000 gallons of rainfall per year.
Trees also provide food and shelter for a diversity of birds, insects and mammals. And, of course, forests are often called "the lungs of the Earth" because they filter pollutants from the air and produce oxygen.
With all we know about the ecological benefits of trees, it was upsetting to learn earlier this year that hundreds of mature trees had been clear-cut in Bernardsville, apparently to provide a better view from a new home that is to be built. To make matters worse, many of the trees were on conservation easement lands where tree cutting is specifically prohibited.
The Bernardsville property slopes toward Raritan Headwaters Association's William Post Natural Area, which contains a tributary of the Mine Brook. Stormwater that once was absorbed by hundreds of trees now flows more swiftly downhill toward the tributary, picking up sediment and contaminants along the way. The water that ends up in the Mine Brook in downtown Bernardsville – and eventually the Raritan River – is not as clean as it once was.
The Raritan River is a source of drinking water for 1.8 million people, so every bit of extra pollution has an impact on residents and communities downstream. One impact is the increased effort and cost of treating the water to make sure it's safe to drink.
The Bernardsville tree clearing incident was the largest and most publicized case in the region in recent years. But smaller tree cuts happen throughout the upper Raritan River watershed, many the result of development. They all add up to weakened natural protections for the public's drinking water.
A recent trend analysis of stream monitoring data collected by RHA between 1992 and present indicates that the North Branch and several of its tributaries – including the Lamington River, Chambers Brook, Mine Brook, Peapack Brook and Rockaway Creek – have experienced declines in water quality over time, despite regulations protecting these headwater streams.
For the sake of clean water, clean air and healthy wildlife, the public should be extremely thoughtful about cutting down trees. Nearly every municipality in the watershed has rules and regulations on tree cutting, and they exist for a reason.
If you're thinking of taking trees down on your property, please don't act in haste. Check your town's ordinances to see if a permit is required.  Obviously, dead and severely diseased or damaged trees must be taken down if they pose a hazard to people and property. But if you're thinking of clearing healthy trees for purely aesthetic reasons, please consider the ecological benefits that will be lost. And consider planting more native trees on your property.
It takes 100 years or more for a tree to grow from seedling to maturity, but only five minutes for a chainsaw to cut it down. In those five minutes, the job of safeguarding clean drinking water for millions of New Jersey residents just got a little harder.
Raritan Headwaters works to protect and restore streams, reduce pollution, encourage green infrastructure, and protect forests through its science and conservation programs. Our vision is for everyone within our reach to have access to clean, safe water that is swimmable, fishable and above all, drinkable – but it can only happen when local residents are partners in valuing, protecting and enhancing local forests!
CINDY EHRENCLOU
Executive Director
Raritan Headwaters Association