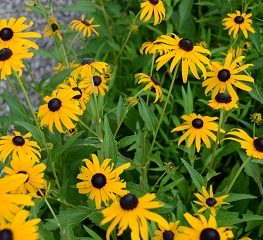 If you want to be a good steward of the land, water and environment, one great place to start is your own backyard.
By being a backyard steward, each of us can boost the ecological value of our gardens, lawns, landscaping and woodlands. Collectively, this can make a big difference for people, wildlife, and the health of our rivers and streams.
Recently, Lauren Geary, Erin O'Reilly, Olivia Stettler, and Kayla Sullivan, all students in the environmental science program at Raritan Valley Community College worked with Raritan Headwaters to create a guide to backyard stewardship for RHA to give to local homeowners.
The project was one of several in which RHA has worked with high school and college students who are passionate about protecting the environment.  Dr. Kristi MacDonald, RHA's director of science, had this to say, "It's been a great experience for me and for the students.  They got to apply what they are learning in their courses at RVCC with experiences that will help them build their professional skills while also contributing to healthier land and water."
Here's a sneak preview of the RHA Guide to Backyard Stewardship:
Native plants are the way to go! New Jersey has many beautiful native flowers, shrubs and trees. They'll need less water and maintenance than non-native plants, so going native will save you time and money in the long run. Native plants also provide food for native wildlife, including beautiful birds, bees and butterflies. The greater the plant diversity, the greater the wildlife diversity!
Get rid of invasive, non-native plants. Unfortunately, many New Jersey yards are filled with invasives that push out the natives while doing nothing to support wildlife. Remove non-native vines such as Bittersweet and Wisteria from trees, and manually dig up non-native trees and shrubs such as Ailanthus, Japanese barberry and wineberry.
Rethink the traditional lawn. Consider reducing the area of your lawn and replacing in turn with native grasses, which will allow you to water less frequently. Mow less often, keep grass a little higher, and leave grass clippings in place as mulch. Do a soil test before deciding on amendments; use only organic fertilizers, if any at all. Avoid using herbicides and insecticides.
Woodlands and forests.  Maintain a diversity of native trees and shrubs; actively plant trees and install deer protection; Remove non-native vines such as Bittersweet and Wisteria from trees. Manually remove non-native trees and shrubs such as Ailanthus, Japanese barberry, wineberry. Leave snags (standing dead trees) and fallen logs in place to replenish the soil and provide habitat.
Protect rivers and streams. If you have a stream or wetland on your property, make sure to leave a large buffer of trees and shrubs to shade it and filter stormwater runoff. Consider installing a rain garden – a strategically placed and designed garden that captures and filters rain water from roofs, patios, pavement and lawn. Rain gardens prevent polluted stormwater runoff from entering streams, they recharge aquifers, and also provide pollinator habitat.
For more information on native plants and what will grow best in your yard, visit the Jersey Friendly Yards website at www.jerseyyards.org, the New Jersey Native Plant Society website at www.npsnj.org, or the National Wildlife Federation at www.nwf.org/Garden-for-Wildlife/Create/At-Home.  To learn more about identifying and removing invasive plants, go to the New Jersey Invasive Species Strike Team website at www.fohvos.info/invasive-species-strike-team.
Thank you for helping to protect wildlife and local water quality!
Here is a sneak peek of the RHA Guide to Backyard Stewardship, downloadable & printable tri-fold brochure. RHA Guide to Backyard Stewardship Trifold