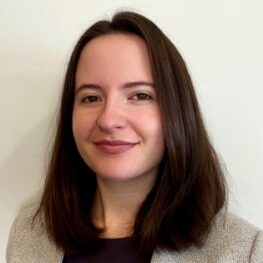 If you visit Raritan Headwaters' main campus at Fairview Farm in Bedminster, it might seem like staff member Kate Arnao is everywhere. That's because she is!
Kate is wearing three hats at RHA. As development assistant, she helps out with fundraising,social media, and events. As Geographic Information System (GIS) intern, she's learning to make professional-quality maps for RHA projects, including the annual Stream Cleanup. And as stream monitoring intern, she's gearing up for a busy month in June, analyzing local waterways for water quality as part of RHA's team.
"It's cool having three different angles on things," said Kate, a Mine Hill resident. "I like being busy and I'm always getting to do something different." I'm never doing nothing."
Kate first came to Raritan Headwaters in 2017 as a science intern, helping Science Director Dr. Kristi MacDonald with a study on microplastics in local waterways. Her responsibilities included collecting stream water samples and analyzing them in RHA's laboratory. She also assisted with creating a local invasive plants list.
Kate graduated from Centenary University in December 2017 with a bachelor's degree in environmental science. She continued with her RHA science internship until the following spring, when she began working as an aquatic biologist with a company that manages lakes throughout the East Coast. Among her tasks were aquatic plant sampling and creating maps showing plant distribution.
She said she was excited earlier this year to be chosen for the RHA internships and development department position, and return to her old stomping grounds at Fairview Farm.
"I really enjoy creating our social media posts and connecting RHA with a larger audience," said Kate, who keeps RHA's Facebook and Instagram pages filled with colorful photos and interesting content. "I also really like doing maps," she added. "I enjoy organizing and keeping track of data."
In her spare time, Kate enjoys yoga and hiking with her dog. She also likes to relax with online gaming.  A former horseback rider and horse show participant, she created a group within the multi-player game Star Stable that organizes virtual horse shows.
Welcome back, Kate!