New Jersey is predicted to get warmer and wetter in the coming decades with global climate change – and we see it firsthand with recent blistering heatwaves and big storms like Ida.
Local rivers and streams are already being impacted by more frequent and heavier rainfalls, as well as hot summer stormwater running off roads, parking lots and roofs into storm drains. Rivers are reaching flood stages more quickly and experiencing spikes in pollutants from the land – including bacteria, sediments, road salt, motor oil and trash – washed in by stormwater.
What are the impacts of all this heat and runoff on water quality and biodiversity in local streams? Thanks to a generous grant from the Royal Bank of Canada (RBC) Tech for Nature grant program, regional conservation group Raritan Headwaters Association (RHA) is now beginning to answer these questions.
RHA just installed "climate stations" at four key locations along rivers in the Upper Raritan Watershed, which includes the North and South Branches of the Raritan River and the Lamington River. In addition, in partnership with Duke Farms in Hillsborough, RHA installed a climate station on that property and is monitoring water as it leaves the Upper Raritan and enters the Lower Raritan.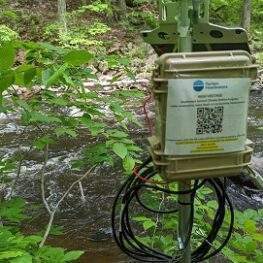 The solar-powered sensors transmit data on stream water temperature, depth and conductivity (an indicator of salt in the water) every 15 minutes. With funding from RBC, Raritan Headwaters will expand the sharing of data on stream health and climate change via a "climate change dashboard."
"The climate stations are a tool to engage all citizens in understanding climate change and how it impacts their lives – and what we each can do about it in our own homes and communities," said Cindy Ehrenclou, RHA's executive director. "When we see the temperature in our streams rising above normal, we know that the organisms that live there, including native brook trout are at risk. It's is a huge wake-up call."
Climate station data is available to the public at www.raritanheadwaters.org/climate-stations/.
"We're excited to see our Tech for Nature grant used for such an important initiative and it's great to have these climate stations working right here in our local ecosystems," said Benjamin Lennon, director of RBC Capital Markets. "Harnessing more data is key to climate change mitigation and adaptation strategies. The RBC team has been actively involved with RHA for several years now and we look forward to continued volunteering opportunities and engagement."
Dr. Kristi MacDonald, RHA's director of science, said it is not yet known what long-term effects climate change will have on local streams, aquifers, and our water supplies. "We hope the information we are collecting through the climate stations will provide not only immediate, baseline data on climate change but also long-term data, over decades and centuries, that is necessary to detect trends and patterns," she said.
The climate stations will provide data to support the need to address the source of climate change by decreasing carbon emissions and the need to develop resiliency plans to deal with flooding, threats to human life and health, and damage to property. Data from the stations will be used by schools for STEM-driven classes and programs, academic institutions and regulatory agencies, municipalities, and other non-profits.
The climate station project is also engaging citizen scientists and other volunteers to monitor and maintain the stations, while sharing the information provided by the stations locally. "Two of RHA's long-time volunteers, Ray Croot and Ted Lurker, have become experts on installing the climate stations and are integral to the project's success," said Dr. MacDonald.
Three of the stations are installed at private fishing clubs, providing useful information to anglers. For example, knowing the water level will help fly fishermen determine whether it's safe to wade in streams, and knowing water temperatures will help them avoid times when fish are stressed due to higher temperatures and lower oxygen levels.
About Raritan Headwaters
Raritan Headwaters has been working since 1959 to protect, preserve and improve water quality and other natural resources of the Raritan River headwaters region through efforts in science, education, advocacy, land preservation and stewardship. RHA's 470-square-mile region provides clean drinking water to 300,000 residents of 38 municipalities in Somerset, Hunterdon and Morris counties and beyond to some 1.5 million homes and businesses in New Jersey's densely populated urban areas. To learn more about Raritan Headwaters and its programs, please visit www.raritanheadwaters.org or call 908-234-1852.
About RBC Capital Markets
RBC Capital Markets is recognized by the most significant corporations, institutional investors, asset managers, private equity firms, and governments around the globe as an innovative, trusted partner with an in-depth expertise in capital markets, banking, and finance. We are well-established in the largest, most mature capital markets with over 7,300 employees across North America, Europe, and the Asia-Pacific region in 70 offices and 15 countries, collectively encompassing more than 80 percent of global investment banking activity each year.