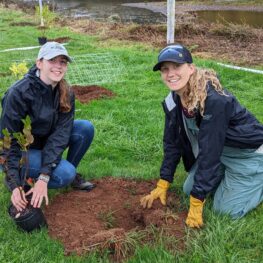 A project with a goal of planting 10,000 trees over a 4-year period along the North Branch of the Raritan River and its tributaries was officially launched last week when volunteers helped put 1,000 native trees and shrubs in the ground at North Branch Park in Bridgewater.
Raritan Headwaters Association (RHA), a nonprofit conservation organization based in Bedminster, partnered with the Somerset County Park Commission to plant the trees on Thursday and Friday, Oct. 13 and 14, with the help of staff and volunteers, including a group from Sanofi.
"This was the kickoff planting for our 10,000-tree project," said Robert Lucas, restoration coordinator for Raritan Headwaters. "Everything went very smoothly, and the County played a big role by digging the holes in advance."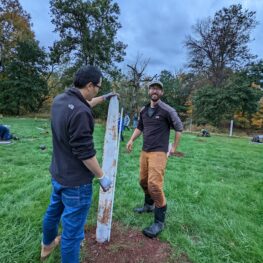 Lucas headed a team that included RHA staff members, Somerset County Parks Commission staff, representatives of U.S. Fish and Wildlife Service and National Oceanic and Atmospheric Administration (NOAA), and an additional 75 volunteers. The trees and shrubs were planted along nearly a mile-long stretch of river within the park.
Dr. Kristi MacDonald, science director at RHA, said restoring forests along the flood plain of the North Branch will have many benefits including healthy streams and clean drinking water. Trees directly benefit water quality by capturing sediments and pollutants during storms and shading streams so they support trout and other organisms that need cold, oxygen rich water.  Trees also protect against damage from storms by helping to absorb floodwaters and prevent erosion along stream banks.
The plantings at North Branch Park include native trees like maples, oaks, willows, and birches, as well as native shrubs like spicebush, elderberry, and black chokeberry. "We choose a diversity of species so the planting will survive for the long-term, even if faced with new diseases or pests in the future. Also, the variety of trees and shrubs will provide food and other resources for a wide range of wildlife species," said Lucas.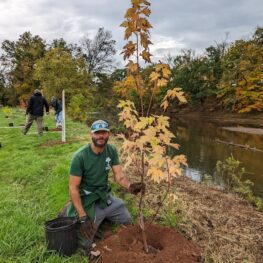 RHA's project to plant 10,000 trees  is one of about 20 restoration projects funded through a $25 million-plus Raritan River watershed restoration initiative to compensate for environmental damages at a Superfund site, Cornell Dubilier Electronics (CDE), in South Plainfield.
More tree plantings are in the works for 2023 on public open space along the North Branch Raritan River and its tributaries. Raritan Headwaters will also assist with dam removals along the Raritan River as part of the restoration project.
About Raritan Headwaters
Since 1959, Raritan Headwaters Association has focused on one thing — clean water. RHA engages citizens and decision makers in the protection of the Raritan River headwaters region and beyond through science, education, land preservation and advocacy.
RHA's 470-square-mile region provides clean drinking water to 300,000 residents of 38 municipalities in Somerset, Hunterdon, and Morris counties and directly impacts over 1.5 million homes and businesses in New Jersey's densely populated urban areas. To learn more about Raritan Headwaters and its programs, please visit www.raritanheadwaters.org or call 908-234-1852.
About the Somerset County Park Commission
The Somerset County Park Commission stewards nearly 15,000 acres of county-owned open space, which is visited by two-million park users each year. Five golf courses have three driving ranges, a pitch and putt course, and a recreational putting course. Other attractions include a riding stable, an environmental education center, two tennis facilities, an outdoor pool, paddle boating, a rock and rare plant garden, an award-winning rose garden, an arboretum, and a sensory and fragrance garden. Six county parks also offer amenities, such as athletic fields, picnic facilities, bike paths, fishing, birdwatching, cross-country skiing, and hiking.