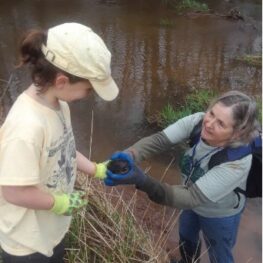 It's always gratifying to know when you've made a difference in people's lives! So we at Raritan Headwaters Association (RHA) were excited to learn recently from a local Girl Scout leader that our programs helped her troop thrive during the Covid-19 shutdowns.
Laura Hornby, a scout leader in Delaware Township, Hunterdon County, said she and her outdoor-loving scouts benefited from a wide range of outdoor activities provided on our free online learning resource hub.
RHA educators created the learning resource hub nearly three years ago, in the spring of 2020, just after the Covid-19 pandemic was declared. Schools and businesses closed down, and so did nearly every organized activity for children.
Wanting to help, RHA staff led by Education Director Lauren Theis created a collection of over 80 activities to engage children in the world of nature around them. (Check them out at https://www.raritanheadwaters.org/education/learningresources/.)
Many of the activities fall into the "how-to" category, like making a nature mandala, walking stick, sundial, twig weaving, flower crown, butterfly habitat or fairy boat. Photos and step-by-step instructions are provided.
The learning hub also includes fun activities that can be done outdoors, including nature scavenger hunts, backyard bird bingo, nature journaling, local stream explorations, and insect safaris.
Then there are "Creature Features" filled with photos and information about critters that live in the upper Raritan River watershed: foxes, squirrels, bats, turtles, bears, frogs, salamanders, butterflies, bees, bugs and more!
Hornby said the hub turned out to be a perfect learning and activity tool for her troop.
"Troop 80400 has always been an outdoor troop," she said.  "We spent our kindergarten and first grade Daisy years exploring outside when it was clear that the girls in my troop were not made for quiet indoor activities – especially after a long day at school."
When Hornby asked the girls what they wanted to do in second and third grade as Brownies, their reply was "everything outside." The Girls Scouts have over 15 Brownie-level badges that are outdoor oriented, so it was easy for her come up with plenty for the troop to do outdoors.
Things got difficult in the spring of 2020 with Covid lockdowns.
"School closed and all the girls were on their computers doing distance learning all day long," Hornby recalled. "I tried a couple of Zoom meetings with very little success. Case in point – one mom texted me that her daughter wouldn't be on the Zoom meeting because she was playing outside and didn't want to come in. I counted that as a success."
During that time period, Hornby used many RHA activities with her son and daughter to get more outside time into their day after they finished up their computer time.
When school started back up in the fall, children attended half days every day in school.  That left the afternoons free for Girl Scout activities.
"At this point we had no choice but to do everything outside since we weren't allowed to meet inside," said Hornby. "That was fine by them. We doubled down on the all-outdoors theme and for the entire 2020-21 school year we met every other week, outside, no matter the weather."
Among the RHA hub activities they picked were bug pitfall traps, trail games, meeting a macroinvertebrate, habitat scavenger hunts, bug symmetry drawing, and twig weaving.
The troop also chose a watershed/environmental engineering project as a Girl Scout "Journey." Scouting "Journeys" are multi-session experiences in which girls dig deeper into their interests and use the skills they gain to make a difference in their community. During a Journey, Girl Scouts do hands-on activities, connect with experts, and take the lead on an action project in their community.
For their watershed/environmental engineering project, the troop did RHA hub activities including a rainy day hike, exploring a local stream, and lessons in erosion.
They made a fascinating discovery while conducting another activity, mapping the watershed.
"We looked at a map of Delaware Township and found everyone's houses and the school. We found the nearest streams and traced where water flowed.  It was determined that Delaware Township sits directly on the watershed divide of the Delaware and Raritan rivers. Some of the girls lived in the Raritan watershed, and some in the Delaware. The school sits in both!"
Thanks to Laura Hornby and Troop 80400 for letting us know about how they used Raritan Headwaters' learning hub. We hope that children, families, scouts and other groups continue to use this free resource – and keep loving the outdoors and nature!