Longtime Executive Director Cindy Ehrenclou to be succeeded by RHA Associate Director Mara Tippett on January 1, 2024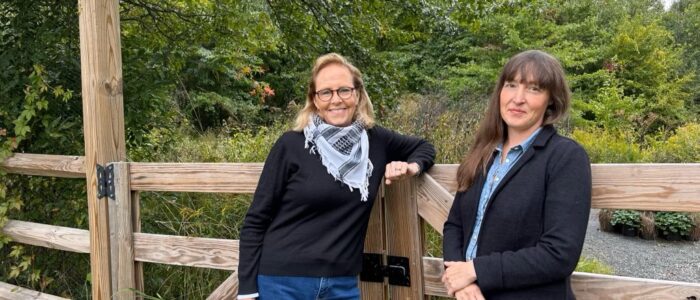 Cindy Ehrenclou, who has served as RHA's executive director for 17 years and a member of the staff for three decades, will step down at the end of the calendar year. The RHA Board announced that Mara Tippett, associate director of the organization, will take the helm as RHA's next executive director on January 1, 2024. 
One of the region's most respected conservation advocates and longest-serving nonprofit leaders, Ehrenclou will remain with RHA to spearhead fundraising efforts, said Board President Dallas Hetherington. 
"Raritan Headwaters Association is what it is today because of Cindy Ehrenclou. No one has done more to safeguard our access to swimmable, fishable, and drinkable water," said Hetherington. "In Cindy's time as executive director, we've preserved or restored over 5,000 acres of land forever, monitored 1,405 miles of stream, tested thousands of drinking water wells, engaged a strong and growing community of volunteers and citizen scientists, educated tens of thousands of schoolchildren and advocated for sound policy among elected officials, locally and statewide." 
Hetherington praised Ehrenclou for guiding RHA through pivotal moments in its 64-year history, including the 2011 merger of RHA's institutional parents, the South Branch Watershed Association and the Upper Raritan Watershed Association; the launch of RHA's science department in 2015; the recognition of RHA as an accredited land trust in 2018; and a smooth leadership transition to ensure long-term stability in 2023.  
"Like all good leaders, Cindy plans for the future," Hetherington said. "She aimed to maintain the momentum that we've created by helping us plan and execute a thoughtful, deliberate leadership transition process — and she's so committed to our shared vision of the future that she's staying on board as part of the senior leadership team to help us reach our goals." 
Ehrenclou's decision to step down as executive director ultimately led the Board to Tippett, a senior member of the RHA staff since 2016. A Hunterdon County resident, Tippett currently oversees RHA's initiatives in the areas of land preservation, including conservation easements and land acquisitions; as well as municipal outreach, a role that includes advocacy, partnership-building and providing resources and guidance to local decision makers in the watershed's 38 municipalities.  
Prior to her appointment as associate director, Tippett served as RHA's watershed scientist and managed the organization's mission-critical Well Testing Program, which offers residents — 80 percent of whom depend on private wells — opportunities to test their drinking water for bacteria, nitrates, arsenic and other contaminants. 
A member of New Jersey's Lead Task Force, Forest Task Force and Private Well Consortium, Tippett also serves as vice chair of the Highlands Coalition's Policy Committee and is a member of her hometown Kingwood Township Environmental Commission. She holds a bachelor's degree in biology from the City University of New York's Hunter College and a master's degree in environmental science and policy from Johns Hopkins University. Her research focused on the blood cells of horseshoe crabs, a keystone species in many coastal ecosystems in New Jersey. 
"Mara is ready to lead Raritan Headwaters. I know because I've had the privilege of working with her over the years and seeing her in action," Ehrenclou said. "She brings scientific and policy expertise, on-the-ground experience, passion for the mission, and all the energy required to be successful. I have complete confidence in Mara and can't wait to see what she'll accomplish." 
"Cindy has been an exceptional mentor, and her leadership sets a powerful example for all of us," said Tippett. "Her deep commitment to our mission is truly inspiring. Assuming the role of RHA's executive director and continuing in her footsteps is an extraordinary honor, and I am fully prepared to advocate for our cause with the same unwavering dedication."