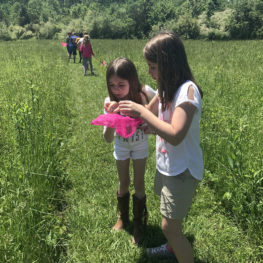 Fairview Farm is a 170-acre wildlife preserve, and the perfect outdoor classroom! With over five miles of trails, a pond, meadows, forest, and a bird and butterfly garden, there is plenty to observe, discover and experience. This outdoor setting can host upwards of 150 students at once, with ample bus parking, picnicking areas and restroom facilities.  
Our historic barn complex includes a rustic nature classroom and indoor-outdoor interpretive workshop. The ADA accessible Betty Merck Science and Education Center on campus contains a children's exploration room and a large community meeting room.
For more information, contact Director of Education, Lauren Theis
Our Classic Field Trip Program (Grades pre-K through 8, 2-5 Hours in Duration)
Your students can rotate among up to 10 program stations throughout the day. Depending on the number you choose and the duration of your field trip, each activity can last 20 to 45 minutes.  Choose fewer activities for a more intensive learning experience at each station, or more activities for an energetic day of educational fun!  
Program Choices
Nature Journaling
Nature Hike
Pond Ecology
Our Native Pollinators
Birds of New Jersey
Tracks and Scat
Animal Adaptations
The Water Cycle
Super Soils
Life on the Forest Floor
Tremendous Trees
Grasses and Grains
Going, Going, Gone!
Helping the Climate
Contact Director of Education, Lauren Theis, for pricing and to book your program!
ltheis@raritanheadwaters.org or (908)234-1852 x314
Financial assistance is available.