They lead outdoor events, monitor streams for water quality, pick up trash along stream banks, plant trees, maintain trails, promote well testing, help out with office work, remove invasive plants, conduct bird surveys and more.
They're Raritan Headwaters Association (RHA) volunteers, and last year 2,200 of them clocked a combined 9,743 hours toward protecting clean water in the upper Raritan River watershed!
On Feb. 28, seven generous citizens and one corporate group were honored as outstanding volunteers of the year at RHA's annual member meeting.
"We're lucky to have such a great force of volunteers at Raritan Headwaters," said Trish McGuire, volunteer manager. "We're very grateful for everything they do."
Those honored were: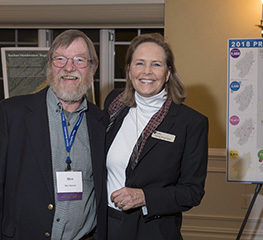 Alan Rennie of Califon received the Suki Dewey Volunteer of the Year Award, named for a former RHA trustee and longtime volunteer. For years, Rennie has led Monday morning bird hikes through the fields and trails of Fairview Farm, RHA's headquarters in Bedminster. "Alan's love of birds and all nature is contagious," said Cindy Ehrenclou, executive director, who presented the award to Rennie. "He is generous with his knowledge and inspires outdoor enthusiasts of all ages." Rennie has been involved with Raritan Headwaters since 2005, when he retired from a career teaching woodworking at Piscataway High School and became a part-time nature educator for RHA's predecessor group, the South Branch Watershed Association. Today, in addition to leading weekly bird walks, he conducts bird surveys and is a volunteer stream monitor.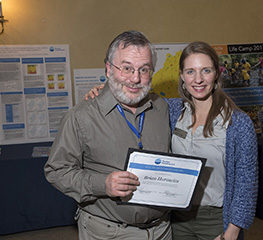 Brian Horowicz of Bridgewater was recognized for his volunteerism in leading outdoor paddling programs.  In summer of 2016, he partnered with Raritan Headwaters to organize a multi-day kayak and canoe trip along 50 miles of the Raritan River, from Clinton to the Raritan Bay. The "Raritan River Sojourn" has become a yearly spring event, drawing many newcomers to Raritan Headwaters. "Brian has volunteered over 180 hours planning and participating in the sojourns," said Lauren Theis, education director. "We're so lucky we have someone as capable as Brian leading our programs." The paddles were organized in partnership with Appalachian Mountain Club and Hunterdon County Canoe Club.
Carol Gillick of Branchburg received an award for her outstanding staff support. She began volunteering at the Annual Stream Cleanup several years ago. Wanting to do more, Gillick offered her time to help the office staff.  Each Wednesday for the past year and a half, she has come to Fairview Farm and helped each department – science, well testing, education, development and stewardship – with large and small projects, for a total of over 100 hours.  "We all rely on Carol's steady hand, attention to detail, and dedication to doing the job right," said McGuire.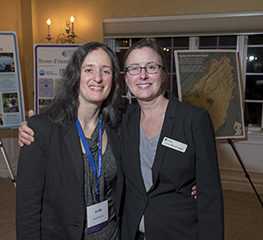 Dr. Emilie Stander of Somerville, an assistant professor at Raritan Valley Community College, was recognized for contributing her time and expertise to advancing RHA's clean water mission. "She volunteers a lot of time – mostly she lends us her brain," said Dr. Kristi MacDonald, science director. Most recently, Dr. Stander partnered with the RHA science team to expand the scope of water quality testing by using her lab and interns to provide bacteria and nitrate data. In addition, she engages her students in RHA volunteer projects such as the Annual Stream Cleanup and stream bank enhancement projects. Dr. Stander serves as a member of RHA's Water Quality Committee and acts as a science advisor.
Three Raritan Township officials – Ray Simonds of the Environmental Commission, Township Clerk Lisa Fania and Deputy Clerk Stephanie Haver – were recognized for their work to promote the Community Well Testing Program. All three reside in Raritan Township. Since 1985, Raritan Township and RHA have partnered to provide residents an opportunity to test their well water conveniently and affordably. "It's hugely important for communities to be able to do this," said Mara Tippett, who runs the well test program for RHA. "The program would not be so successful without the people in this municipality."
For two weeks in October, the Municipal Office is stocked with Well Testing Kits and residents are met by Simonds, Fania and Haver. Their efforts allow more residents to take advantage of the program, benefitting public health.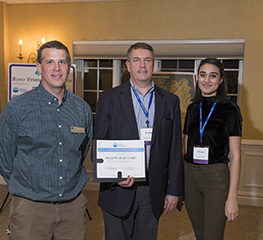 The Royal Bank of Canada, located in the New York metropolitan area, was thanked for the volunteer efforts of its employees. For the past two years, a team of Royal Bank of Canada Capital Market employees have joined forces with RHA to participate in a corporate day of caring. In 2017, the team removed trash, debris and bags of recyclables from an impaired site along the banks of the Raritan River.  The team returned in 2018 to tackle invasive plants in the meadows at Fairview Farm, clearing acres of non-native shrubs and vines. George Schaberg, land projects manager, said the Royal Bank of Canada has also been "incredibly generous" in providing financial support of RHA's activities, including the annual Stream Cleanup, tree plantings, and River Friendly workshops.
About Raritan Headwaters
Raritan Headwaters has been working since 1959 to protect, preserve and improve water quality and other natural resources of the Raritan River headwaters region through efforts in science, education, advocacy, land preservation and stewardship. RHA's 470-square-mile region provides clean drinking water to 300,000 residents of 38 municipalities in Somerset, Hunterdon and Morris counties and beyond to some 1.5 million homes and businesses in New Jersey's densely populated urban areas.
Raritan Headwaters recently was accredited by the national Land Trust Accreditation Commission, meaning it has been recognized as a strong and effective organization committed to professional excellence and maintaining the public's trust.
To learn more about Raritan Headwaters and its programs, please visit www.raritanheadwaters.org or call 908-234-1852.