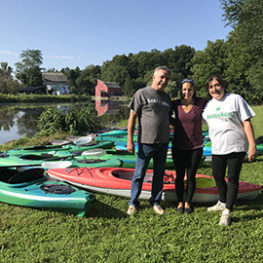 This spring, summer and fall, enjoy the beauty and wildlife of the upper reaches of the Raritan River from a kayak.
The public is invited to join local watershed watchdog Raritan Headwaters Association (RHA) on a series of weekend paddle adventures on the Raritan's South Branch, North Branch and Black River tributary.
"There's nothing like seeing this area from a kayak," said Lauren Theis, education director for Raritan Headwaters. "These outings provide paddlers with views they can't get from the road – and wonderful glimpses of wildlife in and along the rivers."
RHA offers two ways to paddle: open paddle sessions, which are great for beginners; and the annual Raritan River Sojourn, a series of longer guided trips for more experienced paddlers.
Raritan Headwaters recently purchased a fleet of a dozen kayaks to encourage more residents to paddle, so kayaks can be provided to those who don't own them.
"We want everybody to know and love our local rivers the way we do," explained Theis. "The Raritan River is the longest river completely within New Jersey, and paddling it is a great way to get to know it."
Open Paddles
RHA will hold "open paddle" sessions from 9 a.m. to 2 p.m. on two Sundays, May 5 and Sept. 15, in gentle waters of the South Branch of the Raritan River in Clinton. Beginners can learn to kayak and intermediates can improve their skills or just enjoy a relaxing time on the water.
Raritan Headwaters can accommodate up to 12 paddlers at a time during each one-hour time slot. Participants can reserve a kayak for one hour.
Advance registration is recommended to reserve a time slot. Unreserved time slots will be given out on a first-come, first-served basis to drop-in paddlers. The event is free, though donations are appreciated and will support RHA's education and outreach programs.
To register, go to RHA's calendar of events at https://www.raritanheadwaters.org/events-happenings/  and click on the desired date.
Raritan River Sojourn
Explore the Raritan River's upper reaches on a series of guided kayak and canoe paddles co-sponsored by Raritan Headwaters and the Appalachian Mountain Club. Each "Raritan River Sojourn" trip will cover several miles of river and will take five to seven hours, including a stop for a picnic lunch.
Sojourn trips will be held starting at 11 a.m. on five weekend days:
Saturday, July 27 – Paddle seven miles along the North Branch of the Raritan River, from Burnt Mills Road in Bedminster to the confluence of the South Branch in Branchburg.
Saturday, Aug. 17 – Paddle 10 miles along the South Branch of the Raritan River, from Clinton to Darts Mills near Flemington;
Sunday, Aug. 18 – Paddle eight miles along the South Branch, from Darts Mills near Flemington to Neshanic Station;
Saturday, Sept. 7 – Paddle 10 miles along the South Branch, from Three Bridges to the confluence of the North Branch in Branchburg;
Sunday, Sept. 8 – Paddle five to six miles along the Black River in Chester, through the Black River Wildlife Management Area, from Pleasant Hill Road to the Cooper Gristmill.
Paddlers should pack their own lunches, snacks and water. Paddle time may be shorter or longer depending on how fast the river is flowing that day.
A suggested donation of $20 will be collected at the start of each paddle, and those who borrow RHA's kayaks are asked for an additional $20 donation. For more information, contact Theis at ltheis@raritanheadwaters.org or 908-234-1852 ext. 314.
About Raritan Headwaters
Raritan Headwaters has been working since 1959 to protect, preserve and improve water quality and other natural resources of the Raritan River headwaters region through efforts in science, education, advocacy, land preservation and stewardship. RHA's 470-square-mile region provides clean drinking water to 300,000 residents of 38 municipalities in Somerset, Hunterdon and Morris counties and beyond to some 1.5 million homes and businesses in New Jersey's densely populated urban areas.
Raritan Headwaters recently was accredited by the national Land Trust Accreditation Commission, meaning it has been recognized as a strong and effective organization committed to professional excellence and maintaining the public's trust.
To learn more about Raritan Headwaters and its programs, please visit www.raritanheadwaters.org or call 908-234-1852.