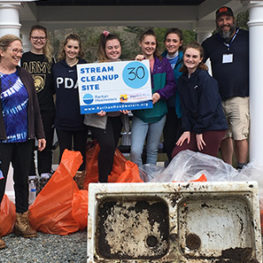 What can a motivated, energetic group of volunteers accomplish in just three hours? In the case of Raritan Headwaters Association's annual Stream Cleanup, a lot!
On the morning of April 13, more than 1,700 volunteers of all ages fanned out from 46 sites in the upper Raritan River watershed in Hunterdon, Somerset and Morris counties. By noon, they had collectively removed 18 tons of trash, litter and recyclables from almost 80 miles of river, stream and lakefront.
"This was our best year yet, and we have our fantastic volunteers to thank," said Cindy Ehrenclou, executive director of Raritan Headwaters, based in Bedminster. "From Cub Scouts to local businesses, everyone put tremendous energy and enthusiasm into the cleanup. I'm so proud of what they accomplished. In one morning, we logged over 5,000 volunteer hours!"
The day's haul included 9,133 plastic bottles, 3,039 plastic bags and 53 car and truck tires. Cleanup coordinator Jeff Geist said unusual items included a kitchen sink, a mannequin, a massage table, several televisions, a child's riding Jeep, bicycles, a rusted meat grinder, a PlayStation console and a couch.
According to Ehrenclou, the cleanup up in the 470-square-mile headwaters region improves water quality downstream, all the way to where the Raritan River flows into the Atlantic Ocean.
"If left in rivers, streams and lakes, plastics can cause serious problems," said Ehrenclou. "Everything that gets into our headwaters streams will eventually be washed downstream into the main stem of the Raritan River and from there into the ocean." Fish and marine mammals often mistake plastic litter for food, she noted, and can die from ingesting them.
Plastic that weathers too long, breaks down into smaller and smaller pieces, eventually becoming "microplastics" – an emerging threat to both wildlife and human health. "By collecting plastic bottles, bags, straws and other objects during the Stream Cleanup, we're preventing them from becoming pollution," said Ehrenclou.
A recent pilot study by Raritan Headwaters – in which fine-mesh nets were used to sample water at 10 sites along the South Branch – found microplastics the size of poppy seeds or smaller, at every site.  A large percentage of the microplastics in this study originated as larger plastic items such as bags, wraps, water bottles and other single-use plastics.
"The Raritan River is a source of drinking water for 1.5 million New Jersey homes and businesses. Every piece of trash and litter we pick up helps keep that water clean and safe," said Ehrenclou.
Cleanup volunteers included individuals, families, scout troops, churches, businesses, civic groups, schools and environmental commissions.
In Hunterdon County, the cleanup included sites in Alexandria, Bethlehem, Califon, Clinton Township, the Town of Clinton, Delaware Township, Frenchtown, Glen Gardner, Flemington, High Bridge, Kingwood, Lebanon Township, Raritan Township, Readington, Tewksbury and Union Township.
In Somerset County, volunteers cleaned up sites in Bedminster, Bernardsville, Branchburg, Bridgewater, Far Hills, Franklin Township, Hillsborough and Peapack-Gladstone.
In Morris County, the cleanup effort included sites in Chester Borough, Chester Township, Mendham Borough, Mendham Township, Mine Hill, Mount Olive, Randolph, Roxbury and Washington Township.
About Raritan Headwaters
Raritan Headwaters has been working since 1959 to protect, preserve and improve water quality and other natural resources of the Raritan River headwaters region through efforts in science, education, advocacy, land preservation and stewardship. RHA's 470-square-mile region provides clean drinking water to 300,000 residents of 38 municipalities in Somerset, Hunterdon and Morris counties and beyond to some 1.5 million homes and businesses in New Jersey's densely populated urban areas.
Raritan Headwaters recently was accredited by the national Land Trust Accreditation Commission, meaning it has been recognized as a strong and effective organization committed to professional excellence and maintaining the public's trust.
To learn more about Raritan Headwaters and its programs, please visit www.raritanheadwaters.org or call 908-234-1852.