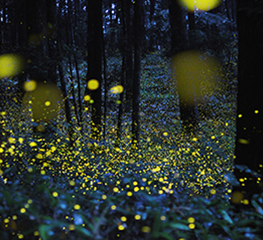 Remember the thrill of spotting the first fireflies to light up the sky on a warm summer evening? And the old-fashioned fun of catching them in a jar … and then letting them go at the end of the night?
The public is invited to enjoy this classic summertime activity during the week of Monday, June 24, through Thursday, June 27, from 7 to 8 p.m., at Raritan Headwaters Association's Fairview Farm Wildlife Preserve, located at 2121 Larger Cross Road, Bedminster.
"We invite local residents to stop by for a peaceful evening watching the glow of fireflies in our meadows," said Lauren Theis, RHA's education director.  "Bring a picnic blanket, snacks, your family, your pet, or just yourself! We will enjoy some ambient live music and the beauty of an early summer evening together. Children will be encouraged to gently catch fireflies in jars and cups, and then release them."
Fireflies, also known as "lightning bugs," are beetles. Firefly larvae live underground during winter, mature during spring, and emerge in the early summer.  Exactly when they make their appearance depends on air temperature, humidity and rainfall.
Firefly larvae feed on snails, slugs and other insects in the soils, so soil damp from rainfall means plentiful food – and a plentiful population. Adult fireflies flicker and flash as a way to attract mates, and each firefly species has its own unique pattern.
The event is free, but donations are appreciated. To register online, visit the RHA events calendar and scroll down to "Firefly Viewing Nights."
Registrants should keep an eye on their email and the RHA website for cancellation information in the event of inclement weather.
About Raritan Headwaters
Raritan Headwaters has been working since 1959 to protect, preserve and improve water quality and other natural resources of the Raritan River headwaters region through efforts in science, education, advocacy, land preservation and stewardship. RHA's 470-square-mile region provides clean drinking water to 300,000 residents of 38 municipalities in Somerset, Hunterdon and Morris counties and beyond to some 1.5 million homes and businesses in New Jersey's densely populated urban areas.
Raritan Headwaters recently was accredited by the national Land Trust Accreditation Commission, meaning it has been recognized as a strong and effective organization committed to professional excellence and maintaining the public's trust.
To learn more about Raritan Headwaters and its programs, please visit www.raritanheadwaters.org or call 908-234-1852.