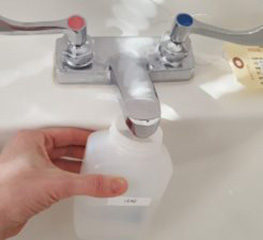 Newark has been in the headlines recently due to lead contamination in drinking water. But, according to water scientists, the problem is not confined to Newark – nor is it limited to homes connected to public drinking water systems.
Dr. Kristi MacDonald, science director at watershed watchdog Raritan Headwaters Association (RHA), said local residents should be aware that even homes with private wells can be affected. "If you have a well, you can still have lead in your drinking water because of your pipes, plumbing fixtures and solder," she explained.
Raritan Headwaters is launching a "Get the Lead Out" campaign to encourage residents in the upper Raritan River watershed region – especially those with older homes – to get their tap water tested for lead. They're also planning seminars to help municipal officials respond to lead issues in their towns, as part of the "Watershed Tools for Local Leaders" series.
"We've offered lead testing for years, but in light of the recent news in Newark, we want people to know that they can easily and affordably get their water tested," said Mara Tippett, RHA's well test manager. "If lead is found, it's easy to treat."
Lead is a toxic heavy metal once commonly used in pipes and plumbing. Lead contamination of drinking water endangers the health of anyone who drinks it and is especially detrimental to brain development in young children.
In Newark and many other older New Jersey communities, the problem begins with lead service lines, the pipes that connect water mains in streets with individual buildings. On Oct. 10, a report by a task force convened by the nonprofit Jersey Water Works recommended replacing an estimated 350,000 lead service lines over a 10-year period at a cost of $2 billion. Dr. MacDonald is a member of the task force.
Lead Found in Older Homes
But homes can be the culprit, too. Before 1986, many homes were built with lead pipes, plumbing fixtures and solder. In houses with wells, lead was often used in well pump components. The Safe Drinking Water Act of 1986 reduced the amount of lead allowed in home and building construction.
Lead in water is colorless, odorless, and tasteless. The only way to know if you're being exposed to lead through your drinking water is to test it. Raritan Headwaters is urging residents whose homes were built before 1986, or whose homes are connected to public water systems, to have their water tested.
Raritan Headwaters contracts with a certified lab to provide lead tests at a discounted cost of $25. Residents can pick up testing kits at Raritan Headwaters' offices in Bedminster and Flemington, and return water samples to those offices on specific days. Results are available in about two weeks. RHA also offers community well testing days in partnership with participating municipalities in Hunterdon, Somerset and Morris counties.
What if Lead Is Found?
The Safe Drinking Water Act sets a maximum concentration of 15 parts per billion (ppb) of lead for tap water. For bottled water, the standard is 5 ppb of lead in the United States.
However, said Tippett, "the goal for lead is zero. No amount of lead is good for you, so if you find any amount of lead in your water, it's best to treat for it."
If lead is found in drinking water, homeowners have several options, including installing an under-the-sink water filter, a faucet-mounted filter or using a drinking water pitcher with a filter. Filters should be certified to remove lead by the Water Quality Association, National Sanitation Foundation or other certifying agency.
Homeowners with acidic water might also opt to install a system that neutralizes acidity, making their water less corrosive to lead pipes. Replacing lead pipes is a more expensive option, said Tippett, and usually not necessary.
In 2017-18, 447 area households had their water tested for lead through Raritan Headwaters. Of those, 51 percent had some level of lead contamination. About 16 percent of samples – or one in six – had lead levels over 5 ppb, the maximum allowed for bottled water.
To learn more about the health effects of lead exposure, how to get your water tested, and treatment options for reducing or eliminating lead in drinking water, go to https://www.raritanheadwaters.org/lead-in-drinking-water/. The page includes links to many information sources, including the U.S. Environmental Protection Agency and Centers for Disease Control (CDC).
To learn more about the recommendations of the Lead in Drinking Water Task Force, of which Raritan Headwaters is a member, go to https://www.jerseywaterworks.org/lead-task-force-press-release/.
About Raritan Headwaters
Raritan Headwaters has been working since 1959 to protect, preserve and improve water quality and other natural resources of the Raritan River headwaters region through efforts in science, education, advocacy, land preservation and stewardship.
RHA's 470-square-mile region provides clean drinking water to 300,000 residents of 38 municipalities in Somerset, Hunterdon and Morris counties and beyond to some 1.5 million homes and businesses in New Jersey's densely populated urban areas.
To learn more about Raritan Headwaters, please visit www.raritanheadwaters.org or call 908-234-1852.