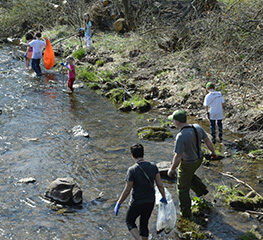 Raritan Headwaters Association's 30th annual Stream Cleanup, originally scheduled for April 18, has been postponed due to the COVID-19 outbreak.
"Raritan Headwaters is committed to the well-being and safety of everyone who lives, works and plays in our watershed communities and beyond," said Cindy Ehrenclou, executive director. "In light of the coronavirus outbreak and following the CDC's directive, we feel that this is the best decision for our partners and dedicated volunteers."
A new date will be announced in the coming weeks. "We're very grateful for all the individuals and organizations that volunteered for this year's Stream Cleanup." Ehrenclou said. "We look forward to coming together as a community to clean up and protect our precious water resources."
At last year's cleanup, 1,700 volunteers removed 18 tons of trash and recyclables from 46 stream sites in Hunterdon, Somerset and Morris counties. Volunteers included individuals, families, scout troops, churches, businesses, civic groups, schools and environmental commissions.
About Raritan Headwaters
Raritan Headwaters has been working since 1959 to protect, preserve and improve water quality and other natural resources of the Raritan River headwaters region through efforts in science, education, advocacy, land preservation and stewardship. RHA's 470-square-mile region provides clean drinking water to 300,000 residents of 38 municipalities in Somerset, Hunterdon and Morris counties and beyond to some 1.5 million homes and businesses in New Jersey's densely populated urban areas.
To learn more about Raritan Headwaters and its programs, please visit www.raritanheadwaters.org or call 908-234-1852.