Most of our drinking water in the upper Raritan River watershed comes from underground aquifers, and residents here largely rely on private wells for their water supply.  Much like annual preventative health screenings, an annual well test is an integral part of maintaining good health. Your private well is an important investment that is best protected by regular check-ups to ensure a reliable and safe source of drinking water for you and your family.
Did you know that by testing your well with Raritan Headwaters, you're also acting as a citizen scientist, helping us monitor our aquifers? Water quality data collected at your tap – and thousands of others – contributes to the overall picture of groundwater health in the Upper Raritan watershed.
Our Community Well Testing events are also a great opportunity for us to get to know more about the people who live in our watershed. We listen to their concerns, offer possible solutions, and invite them to become more involved in caring for our precious water resources.
Testing is easy.
There are two ways to participate in RHA's Well Testing Program- 1) through a Community Well Testing event coordinated with your municipality or 2) year-round testing through one of RHA's offices. You can learn more by visiting our well testing page.
It is important to test your well for coliform bacteria and nitrates once a year. These two contaminants are called "water quality indicators" and may alert you to any changes in the safety of your drinking water.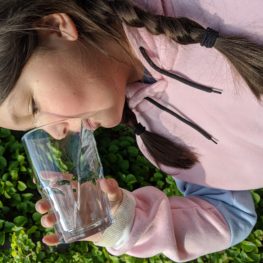 The presence of coliform bacteria may mean that surface water has made its way into the well – an indication that there may be some structural damage like a broken well cap seal or crack in the well casing. Higher nitrates levels may raise a red flag that nutrients from a nearby septic system may be contaminating the well or fertilizers applied near the well have compromised water quality.
There are many additional testing options to choose from, such as arsenic, gross alpha, lead, and volatile organic compounds – but not all tests may be recommended each year. Making the decision on what to test for may seem complicated but we're here to help! If you're not sure which tests are right for you and your water supply, an RHA staff member would be happy to help guide you. You can reach the Well Testing office by emailing welltesting@raritanheadwaters.org or by calling 908-234-1852 ext. 401.