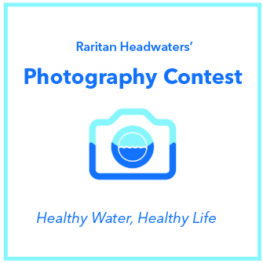 Have you recently taken a great photo of wildlife on a local river or stream? How about an artistic shot of raindrops, or a misty morning scene? Maybe you've envisioned an incredible nature shot in your mind's eye and are just waiting for the perfect weather and light.
Raritan Headwaters Association (RHA), the region's nonprofit watershed watchdog, just kicked off a year-long juried photography contest with water as its theme.
"Protecting clean water in our rivers, streams and homes is Raritan Headwaters' mission, and the photo contest will spotlight the beauty of the watershed region and our relationship with water," said Cindy Ehrenclou, executive director. "We hope photographers explore the many forms of water while capturing their unique view on this precious resource."
All photos must be taken within the upper Raritan River watershed – a 470-square-mile region covering parts of Hunterdon, Somerset and Morris counties – between March 31, 2020 and October 31, 2021.
"We chose this lengthy time frame to allow photographers maximum creativity in all seasons," Ehrenclou explained. She added that since the beginning of the pandemic last spring, many people have gained a greater connection with nature and for photographing their experiences in the outdoors.
"While nothing about 2020 has been normal, it has offered a pause in our busy lives," Ehrenclou said. "This intermission has afforded us time to rediscover our unique region and all its natural beauty, wildlife and water resources."
The fee to enter the contest is $20 per submission, and all proceeds will support RHA's education, science, advocacy and land stewardship programs. The contest is open to photographers over the age of 18.
Cash prizes will be awarded to the top 10 entries and will be announced on December 1, 2021. Entries will be posted online, and the public can vote on their favorites for a special "people's choice" awards.
Ehrenclou added that throughout the coming year, there will be "pop-up contests" with shorter time frames. "Watch for our pop-up contests – for example, special no-fee contests just for kids," she said.
The juried contest will be decided by a panel of four distinguished judges: artist and professor Berrisford Boothe, nature photographer Thomas D. Mangelsen, conservation photographer Alison M. Jones, and young wildlife photographer Ashleigh Scully.
For more information on the photography contest, visit the RHA contest webpage at www.raritanheadwaters.org/photo-contest.
About Raritan Headwaters
Based in Bedminster, Raritan Headwaters has been working since 1959 to protect, preserve and improve water quality and other natural resources of the Raritan River headwaters region through efforts in science, education, advocacy, land preservation and stewardship. RHA's 470-square-mile region provides clean drinking water to 300,000 residents of 38 municipalities in Somerset, Hunterdon and Morris counties and beyond to some 1.5 million homes and businesses in New Jersey's densely populated urban areas. To learn more about Raritan Headwaters and its programs, please visit www.raritanheadwaters.org or call 908-234-1852.