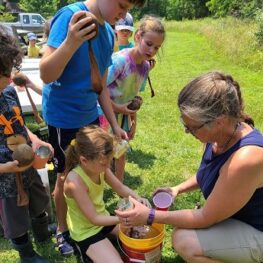 Getting children to connect to the natural world can be a magical experience – and that's no exaggeration!
A few years ago, counselors and campers in the summer Nature Day Camps started calling an area of Raritan Headwaters' Fairview Farm property the "Faerie Wood," and imagined the small, magical creatures who lived invisibly among the trees, mosses and ferns.
"We just embraced it and found the kids were enthralled," said Lauren Theis, RHA's education director. "They feel agency over it, and they build miniature houses for fairies. We even put a mailbox in the woods so children can write letters to the fairies."
How does that relate to nature?  "Being protective of fairies is a good segue for kids to feel protective of all the creatures in nature," explained Lauren.
And that's Raritan Headwaters' goal in its education programs: getting young children and teens to feel a connection to nature and a responsibility for protecting it – now and in the future.
Magic isn't the only way to create the environmentalists of tomorrow, of course. Raritan Headwaters offers programs for youth of all ages, from preschoolers to high schoolers, and there's no "one size fits all" approach.
Under Lauren's leadership, RHA's education programs use a combination of science, physical activities, creative and artistic endeavors and free play to nurture an appreciation of nature.
"I feel there's a way for everyone to connect with nature," said Lauren. "We try to diversity our offerings so there's something for everyone."
Outdoor Classroom
Fairview Farm, a 170-acre former dairy farm that has been converted into RHA's headquarters, is the main campus for year-round learning. It has woods, meadows, trails, a stream, a bird and butterfly garden, two education classrooms, restored historic barns and a pond for kayaking and fishing. Fairview Farm hosts summer nature camps, as well as after-school and weekend programs during the school year.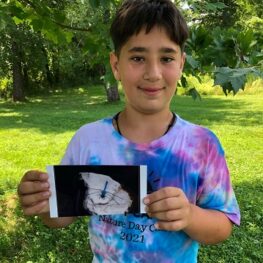 Right now, Fairview Farm is the midst of its summer day camp programs. For younger children, camps are broken down into age groups: "Honey Bees" (ages 3 and 4), "Red Squirrels" (ages 5 and 6) and "Tree Frogs" (ages 7-10). Every day includes outdoor exploration – older kids may go for a hike on the trails, while the younger ones may visit the bird and butterfly garden.
"Getting kids outside into nature is positive and therapeutic," said Lauren.
Free play is also an important element to nurture creativity. "We don't adhere to a strict structure – we emphasize curiosity and playful learning. The educators give children a lot of creative play time and they come up with some amazing projects."
Arts Camps and Watershed University
For pre-teens and teens, there are nature camps that emphasize creativity through the arts: drawing, painting, writing, photography, videography, and collages. For example, one camp this summer taught nature journaling, which involved the campers observing nature and recording their observations through art and writing, in journals that they got to take home.
For the older teens, RHA offers "Watershed University," a one-week program for high school students who are considering college majors in environmental science and related fields. "It's kind of like career prep for conservationists," explained Lauren.
This year, Watershed University took advantage of the expertise of RHA staff members. Dr. Kristi MacDonald, science director, spoke about habitat connectivity; Bill Kibler, policy director, talked about advocating for a clean environment before elected officials; water scientists talked about RHA's stream monitoring and fish surveys; stewardship staff talked about native plant communities and how to identify native plants. Taylor James, who runs a nearby organic farm, spoke about organic, sustainable growing methods.
Hitting the Road
Fairview Farm is a learning hub, but RHA's educators also take their programs out on the road.
During the summer, for example, educators visit the LifeCamp in Pottersville four days a week to teach campers about stream ecology through hands-on lessons. LifeCamp is affiliated with the Boys and Girls Club of Greater Newark, and many of the campers have limited exposure to nature before coming to camp. One popular RHA-led activity is wading in the Black River with nets to look for aquatic creatures whose presence indicates high water quality.
Raritan Headwaters educators are also offering a camp session at the Dvoor Farm in Flemington, one in Bedminster through the township's recreation program, one with the Raritan-Flemington school district, and one for Hunterdon Prep at the Ken Lockwood Gorge wildlife management area. They're also leading a stream exploration at the Red Mill Raven Rocks program in Clinton, and another on a local organic farm.
Pandemic Adjustments
Raritan Headwaters' nature camp program started 25 years ago with two summer camp sessions. Over the years it has grown to multiple sessions each week for eight weeks.
The camp has drawn so many loyal families that Raritan Headwaters made the decision during the early days of the coronavirus pandemic in spring 2020 not to cancel it. "We were one of the few camps that remained open," noted Lauren.
To ensure the safety of campers and staff, RHA cut the size of each camp session from 20 children to 10, which allowed more space for social distancing. The program went off without a hitch, said Lauren, and parents were grateful that their children could still have the nature camp experience.
There was one surprise: Not only did smaller groups allow for social distancing, they led to stronger relationships among campers and educators, and better group cohesivity.
More Programs
"We liked the dynamic, so we stuck with that number this year," said Lauren. Each 2021 camp session enrolls a maximum of 10-12 children. To compensate, Lauren added more sessions. "It breaks my heart to have anyone on a wait list, so I kept adding programs," she said.
When hiring new summer staff for the expanded sessions, she looked for educators "with their own passions and interests in nature." She likes the way it has worked out. "I think we've gotten into this wonderful swing of things, this wonderful energy," said Lauren.
All of the educators share Lauren's belief in the benefits of free play.
Recently, one of the children founds a sphinx moth. Spontaneously, the children created a "Sphynx Moth Café" where they invented dishes for the woodland creatures and sent invitations to rabbits and squirrels of Fairview Farm to come and join them. Another group was motivated to write, produce and perform their own puppet show.
"As an educator, you can plan and plan and plan," Lauren said. "But if you give children a little bit of structure and some creative play time, magic happens."