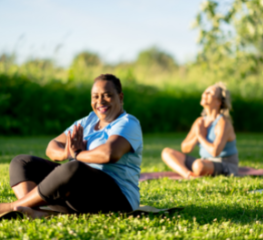 With spring in full bloom, we are all feeling the urge to get outside! There's nothing like seeing more sunshine, wildflowers popping up, the sound of birdsong, and changes in our circadian rhythm to inspire outdoor play. The urgeto spend time outdoors is an instinct we should listen to, with so many benefits in store; lower blood pressure, increased feelings of wellness, and better sleep, to name a few.
For the youngest of us, time spent outdoors is even more important. Spending time in nature engaged in spontaneous play with their peers helps children develop problem-solving skills, independence, and self-esteem. From a physical sense, children that spend time playing outside develop good physical fitness, agility, stamina, balance and strength…and even have better eyesight!
Looking for ways to get outside? Raritan Headwaters has plenty of programs this spring for people of all ages to engage in outdoor exploration and creativity. Check out the list below or see our full calendar of events at www.raritanheadwaters.org/calendar.
Tuesdays and Thursdays: Nature Days Programs for Kids
Saturday, April 22: Earth Day Yoga
Saturday, April 22: Outdoor Tea Tasting
Sunday, April 22: Bugs and Blooms Gardening Program
Wednesday, April 26: Peapack Brook Tree Planting
Thursday, May 4: Herzog Brook (Morris County) Tree Planting Event
Thursday, May 11: Natirar Tree Planting
Saturday, June 3: Introduction to Freeform Tapestry Weaving Outdoor Workshop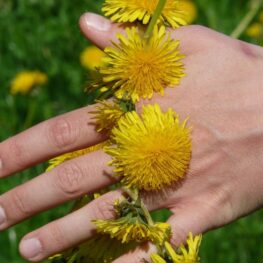 If you're looking for some ideas to engage in outdoor play with your family (or your inner child!) check out our Resource Hub for lots of activities, crafts, and other ways to learn from nature's classroom. The "Make a Flower Crown" activity is perfect for this time of year – just be sure to utilize the Honorable Harvest (a la Robin Wall Kimmerer) method of asking permission before picking any wildflowers!
We hope to see you outside!