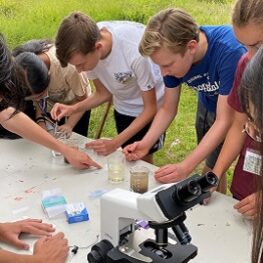 High school students considering majoring in environmental science, conservation or environmental education in college are invited to attend "Watershed University," a program offered each summer by Raritan Headwaters Association (RHA), the region's watershed watchdog.
The one-week certificate program will be offered during the weeks of July 10-14 and Aug. 7-11 at the Fairview Farm Wildlife Preserve, 2121 Larger Cross Road, Bedminster.
The program is designed for students entering grades 9-12 who want to gain insights in the environmental field, learn how to make impactful change and serve their communities. Each day includes instruction from RHA staff members and guest experts, hands-on scientific exploration, and team building.
"Participants will learn from experts, examining environmental and social topics that affect local and global natural resource challenges," said Lauren Theis, education director for Raritan Headwaters. "On-the-ground conservation projects will allow students to gain skills in scientific research, communication, and building connections within a group."
The core program runs from 10 a.m. to 2 p.m., but each session includes free optional activities from 9-10 a.m. and 2-3 p.m. like meditation and yoga, nature illustration, fishing in the Fairview Farm pond, organic gardening, natural tie-dying, and paper-making.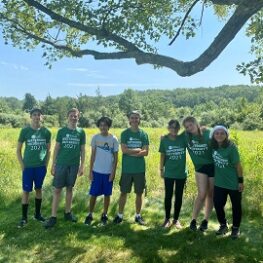 Watershed University topics for the week of July 10-14 include GIS (geographic information system) mapping, green infrastructure, composting, native plant identification, environmental justice, biodiversity study, groundwater conservation and a land stewardship project. The session also includes a kayak trip along the South Branch of the Raritan River.
Topics for the week of Aug. 7-11 include climate study, composting, the story of salamanders, green matters funding, stream ecology, microplastics study, native edible and medicinal plants, and algae, zooplankton and harmful algal blooms (HABs) in waterways. The session also includes a kayak trip to Round Valley Reservoir, where scientist from the NJ Water Supply Authority will talk about aquatic plants.
The cost of the program is $400 a week, and at the end of the program, each student will be awarded a certificate outlining their participation in the program. Need-based scholarships are available. New this year: alumni of previous years' Watershed U. programs may sign up for one-day sessions, at $50 per day.
For more information and to apply online for Watershed University, go to www.raritanheadwaters.org/watershedu/. For more information, contact Lauren Theis at ltheis@raritanheadwaters.org.
"This program will allow participants to explore future fields of study in college and beyond preparing for career opportunities in environmental science, conservation and environmental education," said Theis. "Students will also connect with RHA staff and partners for advanced learning, community service, citizen science projects, and internships."
About Raritan Headwaters
Raritan Headwaters has been working since 1959 to protect, preserve and improve water quality and other natural resources of the Raritan River headwaters region through science, education, advocacy, land preservation and stewardship. RHA's 470-square-mile region provides clean drinking water to 300,000 residents of 38 municipalities in Somerset, Hunterdon and Morris counties and beyond to some 1.5 million homes and businesses in New Jersey's densely populated urban areas.
To learn more about Raritan Headwaters and its programs, please visit www.raritanheadwaters.org or call 908-234-1852.