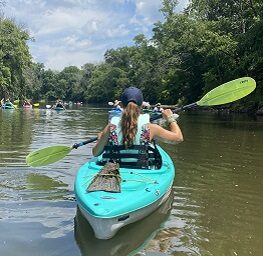 There's no better way to appreciate the beauty and wildlife of the upper Raritan River than from a kayak or canoe.
The public is invited to join local watershed watchdog Raritan Headwaters Association (RHA) and the Appalachian Mountain Club on two full-day paddle sojourns on consecutive Saturdays, Aug. 6 and 13. The trips run from 11 a.m. to 5 p.m., with a midday stop for a picnic lunch.
"We want everybody to know and love our local rivers the way we do," said Lauren Theis, RHA's Education Director. "The Raritan River is the longest river completely within New Jersey, and paddling it is a great way to see the region's incredible scenery and wildlife."
The Aug. 6 paddle trip will introduce paddlers to the seven-mile lower section of the North Branch, from Burnt Mills Road in Bedminster to the confluence with the South Branch in Branchburg. Along the way, the river passes through preserved farmland and several parks, including White Oak Park, North Greenway Park and North Branch Park.
The Aug. 13 paddle trip will showcase the 10-mile lower section of the South Branch, from Three Bridges to the confluence of the North Branch in Branchburg. This section of the river flows through open space, sparse woods, and old fields, with lots of birdlife. An early-out option is available about halfway through the trip at Elm Street in Neshanic Station.
According to Theis, both trips are appropriate for paddlers of all abilities. "These rivers are pretty easy to paddle, even for beginners," she said. Paddlers can bring their own kayaks and canoes, or borrow a kayak from RHA's fleet of 12.
Advance registration is required. A suggested donation of $20 will be collected at the start of each paddle, and those who borrow RHA's kayaks are asked for an additional $20 donation. To make arrangements to borrow a kayak, contact Theis at ltheis@raritanheadwaters.org.
Paddlers should pack their own lunches, snacks and water. The trips will be led by Brian Horowicz of the Appalachian Mountain Club, and paddle times may be shorter or longer depending on river flow conditions.
About Raritan Headwaters
Based in Bedminster, Raritan Headwaters has been working since 1959 to protect, preserve and improve water quality and other natural resources of the Raritan River headwaters region through efforts in science, education, advocacy, land preservation and stewardship. RHA's 470-square-mile region provides clean drinking water to 300,000 residents of 38 municipalities in Somerset, Hunterdon and Morris counties and beyond to some 1.5 million homes and businesses in New Jersey's densely populated urban areas.
To learn more about Raritan Headwaters and its programs, please visit www.raritanheadwaters.org or call 908-234-1852.