When you're at a nature day camp playing in the woods, who would be the coolest possible visitor? Why, Mother Nature herself, of course!
Young campers at Raritan Headwaters Association (RHA) "Nature Days" camp were delighted recently by a surprise visit from none other than Mother Nature, wearing a leaf-green dress and flowers in her hair, and bearing a message about caring for all of nature's creatures.
Magic mingled with natural science as Mother Nature (a.k.a. educator Daina Gulbis) was joined by the Friendship Fairy (Ananya Singh), resplendent in butterfly wings and a leaf necklace. Together, they led a friendship dance and helped the children – who waved magic wands made from twigs, pipe cleaners and ribbons – cast a happiness spell.
Nurturing a love of nature while encouraging imaginative play is a specialty of RHA's Nature Days camps, held each summer at the 170-acre Fairview Farm Wildlife Preserve in Bedminster.
"We try to make it not like school," explained Lauren Theis, RHA's education director. "We do a lot of child-led activities," meaning that to a large degree the children choose and create their own entertainment in the natural world – supervised by the attentive education staff, of course.
Over the last several years, a magical theme has emerged from young imaginations. An entire mythology has sprung up about the fairies who inhabit the Fairview Farm woods and their various friends, including Sasquatch and a group of groundhogs. RHA's outdoor classroom, located in a clearing in the woods, is now better known as Faerie Wood.
"It was never designated as Faerie Wood, it just morphed over the past four years," noted Theis. Other parts of the Fairview Farm property have been renamed by campers as Eagle Land and the Cat Kingdom.
Campers love to build twig fairy houses in the woods surrounding the clearing, and might leave presents for their magical friends like feathers or painted rocks. "We always decorate for the fairies, because we know they love pretty things," said long-time educator Tracy Gordon.
There's even a mailbox in the woods for children to write letters or send their artwork to the fairies. The fairies write back, and sometimes leave gifts like colorful pom-poms or sparkly gems. There's also a cuddly puppet named Cray (short for Crayon) who helps children work through emotions like anger or sadness.
"The kids are learning all these social skills while they're playing," noted Gordon.
"The educators are really taking these magical themes and running with them. They're intertwining them with lessons about science and the natural world," said Theis. "We have 16 educators this summer and they're all spectacular, beyond our expectations." All educators have backgrounds in the sciences and conservation.
When not wrapped up in the world of fairies, campers learn about native birds, bugs, reptiles, amphibians and mammals. They're taught the importance of respecting nature, caring for the habitats of creatures seen and unseen, and anticipating the needs of all living things sharing Earth's resources.
Campers also have fun climbing trees, running through sprinklers, doing arts and crafts projects, and making mud pies in the outdoor play kitchens.  (A sign above one of the kitchens proclaims, "A little dirt never hurt.")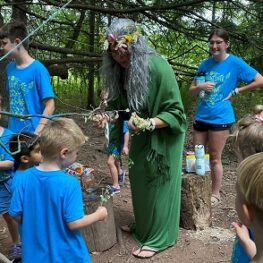 While the younger children welcomed Mother Nature and the Friendship Fairy at their recent day at camp, older children in an art camp took nature as their inspiration for a variety of projects. Some studied the intricate vein patterns of leaves and copied them on paper. Other searched the property for rounded stones to serve as the base for "trees" crafted from twisted wire and beads.
The one thing you won't find at Nature Days camps is kids sitting around looking at phones, tablets, or other electronic devices. The camps are tech-free, except for a few that teach digital nature photography and videography skills to pre-teens and teens.
In addition to the nature day camps and art camps, there are two sessions of "Watershed University," a camp geared toward high school students considering college majors related to the environmental sciences. To learn more about Watershed University, go to www.raritanheadwaters.org/watershedu/.
About Raritan Headwaters
Raritan Headwaters has been working since 1959 to protect, preserve and improve water quality and other natural resources of the Raritan River headwaters region through efforts in science, education, advocacy, land preservation and stewardship. RHA's 470-square-mile region provides clean drinking water to 300,000 residents of 38 municipalities in Somerset, Hunterdon and Morris counties and beyond to some 1.5 million homes and businesses in New Jersey's densely populated urban areas. To learn more about Raritan Headwaters and its programs, please visit www.raritanheadwaters.org or call 908-234-1852.