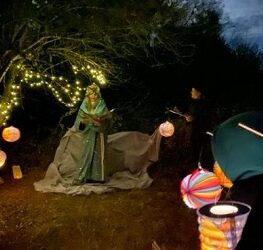 In a season of lengthening nights, the warm glow of lanterns in the darkness feels magical. That's what brings local residents back again and again to the annual Lantern Walk at the Fairview Farm Wildlife Preserve, home of the nonprofit Raritan Headwaters Association (RHA).
Raritan Headwaters will continue its autumn tradition on Sunday evening, Nov. 6, from 4:00 to 7:00 p.m. with Lantern Walks through the meadows of the 170-acre Fairview Farm. Walks will be held at 5:00, 5:30, and 6:00 p.m.
"Our Lantern Walk is reminiscent of the traditional European festivals celebrating the end of the agricultural year and the beginning of the harvest," said Cindy Ehrenclou, RHA's executive director. "Festive music plays as we parade through the meadows on a moonlit night carrying colorful paper lanterns. It's a family favorite that highlights the magic of the changing seasons."
The event raises funds to support Raritan Headwaters' mission of protecting clean water in local rivers, streams, and homes.
The admission fee is $25 per adult, which includes a large lantern; and $15 per child under the age of 12, which includes a smaller lantern. A bonfire, music, and light snacks and refreshments are included. Additional lanterns will be available for purchase at the event.
To register online, go to https://www.raritanheadwaters.org/event/lantern-walk/.
Proceeds from the Lantern Walk will be used to support RHA's science, education, advocacy, land preservation and stewardship, and outreach programs.