Building bird nesting boxes, testing rivers and streams for water quality, maintaining trails, cleaning up trash along waterways, removing invasive plants, teaching children at summer nature camp, helping with public events, and advocating for a clean environment.
These are among the many tasks performed by volunteers for Raritan Headwaters Association (RHA), a nonprofit watchdog for the 470-square-mile upper Raritan River watershed in Hunterdon, Somerset, and Morris counties.
On Feb. 22, five outstanding volunteers were honored by Bedminster-based RHA: Brian Lynch of Mine Hill, Ted Lurker of Bedminster, Rebecca Nadolny of High Bridge, Ben Schuchman of Bernards Township, and employees of the Ernst & Young consulting and accounting firm.
"Our volunteers are an amazing group of dedicated supporters, and we are so grateful for all they do for Raritan Headwaters," said Cindy Ehrenclou, RHA's executive director. "It gives us great pleasure each year to publicly recognize and honor their invaluable contribution of time and talent."
Brian Lynch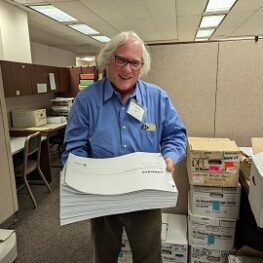 Lynch was given the Suki Dewey Volunteer of the Year Award, named for a longtime volunteer, supporter, and Board of Trustees member.
Lynch serves as a Mine Hill site coordinator for RHA's annual Stream Cleanup, in which hundreds of volunteers throughout the watershed spend one morning removing trash from river and stream sites.
He is currently working to make this year's Stream Cleanup event on April 15th a whole town activity.
As a volunteer citizen scientist for Raritan Headwaters, Lynch monitors a stretch of the Lamington River in its northernmost reaches to measure water quality. And recently, he joined RHA's newly-formed municipal outreach and advocacy program, known as the Raritan Headwaters Community Council.
Over the last year, Lynch dedicated months of hard work supporting RHA's goal of protecting the headwaters of the Lamington River (also known as the Black River) on the 1,000-acre site of the former Hercules Powder Works in Roxbury Township, which produced explosives. The New Jersey Department of Environmental Protection (DEP) is overseeing a massive cleanup effort to remediate contaminated soil.
According to Mara Tippett, RHA's associate director, Lynch has spent countless hours researching the Hercules property's history, geography, geology, and water resources. During his work, he rediscovered the existence of the "Great Spring," believed to be the actual place where the Lamington River originates. He has been advocating with DEP to have the Great Spring recognized by the agency, officially mapped, and included in the "Springs of New Jersey" publication.
Based on his research, Lynch has written and published articles on local media sites to raise public awareness and has contributed blog posts on RHA's website. He has also worked with RHA staff
to uncover documents at the DEP to gain information about the extent of soil and groundwater contaminants and remediation plans at the Hercules site.
"Brian's work is helping us develop a strategy for addressing serious water quality concerns at the top of our watershed," said Tippett. "We can't say enough about Brian's commitment to watershed protection. He is a worthy recipient of our Volunteer of the Year award, and we are so grateful for his partnership and all he does for RHA."
Ted Lurker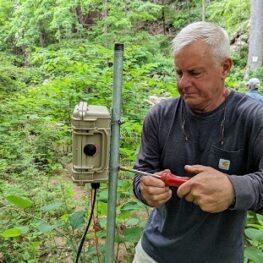 Lurker was honored for his volunteer work with RHA's land stewardship team. An avid birder, he has participated in RHA's Monday morning bird walks since they began in 2017. Over the years, he has applied his knowledge and skills as an independent contractor to being a thoughtful steward of RHA's Fairview Farm Wildlife Preserve.
"If he notices a tree down on a trail, he removes it," said Dr. Kristi MacDonald, RHA's science director. "Anything that is leaning, slipping, broken, Ted is on it. He built and erected a purple martin house and installed bat roosting boxes at the preserve."
Lurker's volunteerism reaches far beyond Fairview Farm. He has been a major contributor to two RHA projects: the Raritan Headwaters Kestrel Partnership, aimed at restoring local populations of American kestrels; and the Raritan Headwaters Sentinel Climate Stations, which remotely monitor river conditions at five local sites.
Lurker assisted RHA and NJ Fish and Wildlife in building and installing nest boxes for the threatened American kestrel, North America's smallest falcon.
"When it was time to install Climate Stations in streams throughout the watershed, Ted mastered the tricky installation requirements and always brought the right tools for the job," said Dr. MacDonald. "We cannot thank Ted enough. His volunteering with us has helped make Fairview Farm more accessible and safer for visitors and summer camp kids, contributed to recovery of American kestrels and other species, and enabled RHA's ability to monitor the impacts of climate change on streams in the region. We are extremely grateful for Ted's friendship and important contributions."
Rebecca Nadolny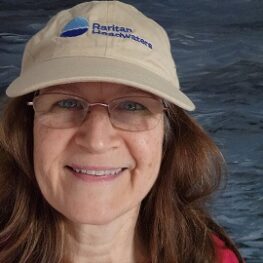 Nadolny, who does administrative work at Nokia supporting Bell Labs researchers, was honored as RHA's outstanding stream monitoring volunteer of 2022.
"Rebecca's unwavering commitment, dedication, and passion for science shines through and inspires us all," said Emily Mayer, watershed scientist for RHA. "She joined the stream monitoring program 16 years ago and wants to continue to make a positive impact by ensuring clean water for our future generations. She encourages the involvement of family and friends to join her during her stream-monitoring adventures. She is always willing to go above and beyond by taking on additional stream monitoring sites."
Nadolny recently joined RHA's Headwaters Sentinel Climate Station Monitoring program by helping monitor stations weekly. In the future, she plans to become more involved in helping manage macroinvertebrate data used in preparing "report cards" on water quality in streams within the upper Raritan River watershed.
"Her hard work, determination, and team spirit have helped support our programs and achieve our goals," said Mayer. "Her encouragement and enthusiasm are contagious; she has a way of bringing out the best in everyone she works with. We are grateful for her to be part of the RHA team, and we look forward to her continued involvement in RHA programs."
Ben Schuchman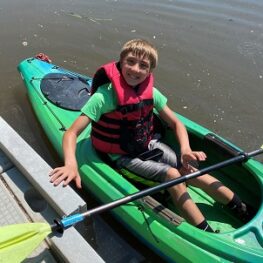 Schuchman, a 9th grader at Ridge High School in Basking Ridge, received the Junior Volunteer Award for assisting at RHA's nature camps last summer.
"We're so happy that this talented high schooler wanted to help us at our Nature Day Camp last year," said Lauren Theis, RHA's education director. "Consistently going above and beyond what was expected, Ben was a super-star junior counselor. He shared his love of the outdoors with our young campers, was always on point, and enthusiastically pitched in to manage the daily flow of activities. Most importantly he kept our little campers safe in their kayaks. We are all very excited that Ben will be returning this summer, and are very happy to present him with a 2022 volunteer award."
Schuchman is passionate about music and plays an upright bass for the New Jersey Youth Symphony and the Baroque Orchestra of New Jersey. He also performs throughout the state with a chamber music group that he founded. He is a member of the Ridge varsity fencing team, the Tri M Music Honor Society, and the Ridge Business Club. His other hobbies include scuba diving, surfing, skiing, kayaking, and hiking.
Ernst & Young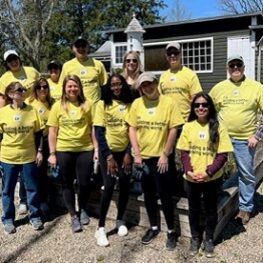 Ernst & Young was chosen for Raritan Headwaters' corporate volunteer award. Twice in 2022, volunteers from several of Ernst & Young's New Jersey and New York offices helped with various projects at Fairview Farm.
On April 22, 2022 and November 4, 2022, RHA spent the day with a group of enthused and dedicated volunteers from Ernst & Young as a part of Ernst & Young's Connect Day – their marquee day of community service. Ernst & Young's purpose is building a better working world. Their people share this sense of purpose—it starts with the work they do for clients and extends into the communities where they live and work. While their commitment to creating social impact is strongly felt year-round, on Ernst & Young Connect Day, its employees are encouraged to volunteer throughout local communities with projects that align to their Ripples focus areas of Supporting the Next Generation, Working with Impact Entrepreneurs, and Advancing Environmental Sustainability. This allows Ernst & Young volunteers to use their skills, knowledge, and unique experiences to become good stewards who create positive change in our local community.
The Ernst & Young Connect Day projects at RHA focused on activities such as trail maintenance, tree plantings and invasive plant removal and preparation for Lantern Walk. Volunteers learned about the importance of New Jersey's waterways as well as why good land stewardship practices are important to maintaining a healthy ecosystem. RHA was thrilled to have the volunteers here, and their impact was deeply felt.
"Ernst & Young volunteers helped convert RHA's carriage barn into a much-needed new classroom to accommodate an overflow of campers," said Debbie Newcomb, RHA's volunteer coordinator. "They deep cleaned the main nature classroom, weeded the bird and butterfly garden, and a group of troupers worked on trail maintenance. All a tremendous help!
Ernst & Young volunteers jumped in to help RHA staff prepare for the annual Lantern Walk event in November. "They set up the barn, organized supplies, hung lanterns and when all that was accomplished, they moved on to clean the nature classrooms, remove invasives, cut back the gardens and trim trails," said Newcomb. "What a fun, hardworking, dedicated team of volunteers! Ernst & Young made a huge impact in two short days. We are so appreciative of their partnership and incredible contribution."