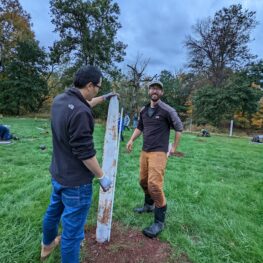 This spring, get your hands dirty for a great cause – clean water!
Raritan Headwaters Association (RHA), the watershed watchdog serving the upper Raritan River region, is seeking volunteers to help plant 430 trees at three parks in Somerset and Morris counties this spring. The plantings are part of a larger environmental restoration project along the Raritan River and its tributaries.
According to RHA Restoration Coordinator Robert Lucas, native trees and shrubs will be planted in stream buffers to help control flooding, stabilize stream banks, reduce sediment washing into the waterways during storms, and cool water temperatures to provide better fish habitat.
"We're actively looking for volunteers to help us plant trees," said Lucas. "The holes will be pre-dug with an augur, so this will be an easy activity for people of all ages and physical abilities." Volunteers will place saplings into holes, top them with soil, and place protective tubing or wire fencing around them.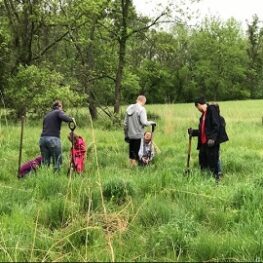 The first tree planting will be held on Wednesday, April 26, from 9:30 a.m. to 12:30 p.m. at the Peapack-Gladstone municipal park created at the site of the former public works yard on Holland Avenue, across from the Peapack train station. Approximately 180 trees will be planted in the buffer along the Peapack Brook, a tributary of the North Branch of the Raritan River.
The second planting is scheduled for Thursday, May 4, from noon to 3 p.m. at the Bamboo Brook Outdoor Education Center on Longview Road in Chester Township, a Morris County park. Approximately 100 trees will be planted along the buffer of the Herzog Brook, another North Branch tributary.
The third planting will be held on Thursday, May 11, from noon to 3 p.m. at Natirar Park, a Somerset County park located along Main Street in Peapack-Gladstone. Approximately 150 trees will be planted in the buffer along the North Branch.
The native trees and shrubs to be planted include pin oaks, black willows, river birches, shagbark hickories, spicebushes, and arrowwood viburnums.
To sign up for a tree planting, visit the RHA events calendar.
The tree plantings are part of a $25 million-plus Raritan River watershed restoration project to compensate for environmental damage at the Cornell-Dubilier Superfund site in South Plainfield. The trustees overseeing the restoration awarded Raritan Headwaters a $490,000 grant to plant 10,000 trees and shrubs along the North Branch and its tributaries.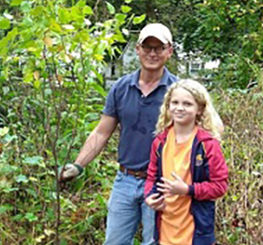 Over the past 150 years, forested stream buffers have been removed with urban and agricultural development; remaining buffers are now protected through state regulations within 50-300 feet of a stream, depending upon stream classification.  Streams and rivers naturally expand into the adjoining riparian zone as large volumes of water wash downstream with rainfall and snowmelt.  Development has exacerbated the amount of water entering streams after rainfall because pavement results in larger amounts of stormwater runoff, carrying pollutants into streams and rivers.  Coupled with climate change and more frequent extreme storms, we are seeing unprecedented flooding and with it damage to life and property as well as erosion of streambanks and poor water quality.
"Forested buffers along streams help absorb and slow flood waters until water levels subside and return to normal," explained Dr. Kristi MacDonald, RHA's science director. "Trees also improve water quality by intercepting chemical pollutants such as fertilizers as well as sediment in runoff. Overhanging trees lower water temperatures by providing shade, which benefits aquatic wildlife."
The North Branch supplies drinking water to over 1.8 million New Jersey residents and provides homes to numerous imperiled aquatic species. However, many sections of the river have no vegetative buffers.
"Planting native trees and preserving forests are some of the most important things we can do to counteract the devastating impacts of climate change," says MacDonald.
To find out more about the Raritan River Watershed restoration plans, see the U.S. Fish and Wildlife Service's story map that describes the selected projects in pictorial detail.
About Raritan Headwaters
Based in Bedminster, Raritan Headwaters has been working since 1959 to protect, preserve and improve water quality and other natural resources of the Raritan River headwaters region through efforts in science, education, advocacy, land preservation and stewardship. RHA's 470-square-mile region provides clean drinking water to 300,000 residents of 38 municipalities in Somerset, Hunterdon and Morris counties and beyond to some 1.5 million homes and businesses in New Jersey's densely populated urban areas.
To learn more about Raritan Headwaters and its programs, please visit www.raritanheadwaters.org or call 908-234-1852.