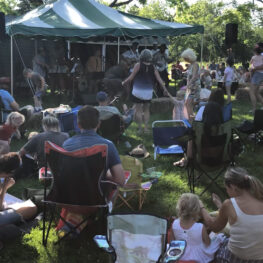 Enjoy a fun day in the countryside with live music, food trucks, children's activities and more on Sunday, June 4, at the spring edition of "Shedfest," an outdoor music festival benefiting the nonprofit Raritan Headwaters Association (RHA).
Shedfest will be held from 2 to 7 p.m. at RHA's headquarters, Fairview Farm Wildlife Preserve, 2121 Larger Cross Road, Bedminster. Three New Jersey bands will be featured: The Joe Cirotti Trio, Nick Dunbar and Sad Cowboy, and the Turpin Trio.
Food trucks including Testo Pizza, Angry Archie's (seafood sandwiches and sides) and Kona Ice (shaved flavored ice) will be on site throughout the event. Locally-brewed beer and hard cider will be available for purchase from the Sunken Silo Brew Works of Whitehouse and the Burnt Mills Cidery of Bedminster.
"Shedfest is a casual, fun afternoon of food, drink and music in a beautiful outdoor setting," said Cindy Ehrenclou, RHA's executive director. "It's a wonderful way to spend a day with friends and family while supporting the protection of land and precious water resources."
Adult tickets are $30 in advance and $50 on the day of the event; admission is free for children 12 and under. Pets should be left at home, and guests should bring their own lawn chairs and blankets. Parking is free.
The event will be held rain or shine. To order tickets online, go to www.raritanheadwaters.org/event/shedfest/.  For information on becoming a sponsor, contact Kate Arnao at karnao@raritanheadwaters.org.
All proceeds will support Raritan Headwaters' conservation mission to protect the watershed region through science, education, land preservation and advocacy.
About the Bands
The Joe Cirotti Trio is a well-oiled string band from the shadows of Northwestern New Jersey's Appalachian ridge. In 2015, Joe Cirotti, Mike Alexander, and Pete Lister's respective multi-instrumentalist upbringings fused with a collective passion for the roots of American folk, country, and bluegrass music. In this way the trio's bond is rooted in proximity, strengthened by a blue-collar passion for picking.
Nick Dunbar and Sad Cowboy hails from Tewksbury and performs music featuring western swing, country, honky-tonk, and bluegrass themes. Born in California and living for many years in Colorado, Nick is no stranger to the wild west and the culture that comes with it.  Nick's debut solo album "Little Country" was released in early 2022, with songwriting that is playful and humorous but also honest and cathartic. Nick Dunbar and Sad Cowboy seek to cure your beer-soaked, honky-tonk heart!
The Turpin Trio, formed especially for Shedfest, is the latest in a lifetime's worth of collaborations between John and Jill Turpin of Far Hills, stretching all the way back to their high school days. Featuring Jill's sweet vocals and upright bass playing and John on guitar, the song selection is a partial soundtrack of their lives together, from The Beatles to bluegrass standards and from the Grateful Dead to originals from their Hub Hollow days. And while it's one thing to hear John and Jill play their favorite tunes, it's something else altogether to hear them with the musical prowess of fiddle player Sam Barnes and mandolinist Nick Dunbar. These two ringers spice up the music but good, and are sure to put smiles on everyone's faces.
About Raritan Headwaters
Since 1959, Raritan Headwaters Association has focused on one thing — clean water. RHA engages citizens and decision makers in the protection of the Raritan River headwaters region and beyond through science, education, land preservation and advocacy.
RHA's 470-square-mile region provides clean drinking water to 300,000 residents of 38 municipalities in Somerset, Hunterdon, and Morris counties and directly impacts over 1.5 million homes and businesses in New Jersey's densely populated urban areas. To learn more about Raritan Headwaters and its programs, please visit www.raritanheadwaters.org or call 908-234-1852.