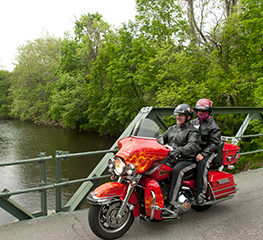 Twenty years ago, a group of motorcycle enthusiasts – led by the husband-and-wife team of John Belle and Amy Greene – came up with an idea for a fundraiser to protect clean water in the Upper Raritan watershed.
"Ride for the River" would take motorcyclists on a scenic ride through the watershed's country roads, following a route mapped by Belle. "Our goal was to raise awareness of the importance and beauty of the natural resources of the watershed, as well as to raise funds to protect these resources," said Greene.
John Belle passed away in 2020, but Ride for the River continues in his memory, with proceeds going to support the conservation mission and programs of the nonprofit Raritan Headwaters Association (RHA).
The 20th annual Ride for the River will take place from 9 a.m. to 2 p.m. Saturday, June 17, starting and ending at Rollin' Fast Cycle Sports on Route 22 in Lebanon. The 58-mile "poker run" will take bikers on a scenic tour of rural backroads in the Upper Raritan watershed, which includes parts of Hunterdon, Somerset, and Morris counties – especially those that parallel or cross rivers and streams.
"It's a fun, leisurely ride showcasing the beauty of the watershed region," said Cindy Ehrenclou, Executive Director of Raritan Headwaters. "Over the years, Ride for the River has raised more than $180,000 to help RHA protect local rivers and streams, and the surrounding countryside. The ride honors the memory of John Belle, a true champion of watershed protection."
Check-in at Rollin' Fast begins at 8:30 a.m., and a light breakfast will be offered. Bikers can leave any time after 9 a.m., and the route is designed to take about two hours. During a poker run, riders collect playing cards at designated stops along the way. By the end of the ride, they have five cards to make a full poker hand.
A barbecue lunch, music, and fun activities await riders upon their return to Rollin' Fast Cycle Sports, where they can meet up with friends and compare poker hands. Prizes will go to the riders with the best hands. There will also be a bike show, with "people's choice" awards for best motorcycles.
"The routes are new every year and enjoyed by all riders.  Many come back to join us every year for the event and we enthusiastically welcome new riders," said Greene. "I'm looking forward to seeing old friends and making new ones at our 20th Ride for the River."
The cost is $40 per rider or passenger, which includes an event T-shirt, poker hand, and lunch. T-shirts will be available for purchase on the day of the event for $20. The event will be held rain or shine, and all makes of motorcycles are welcome.
To register online, go to www.raritanheadwaters.org/event/ride-for-the-river/.
Rollin' Fast Cycle Sports is the event's lead sponsor. "Rollin' Fast has been a loyal sponsor since inception and they now host the event at their Indian Dealership on Route 22 in Lebanon," said Greene.