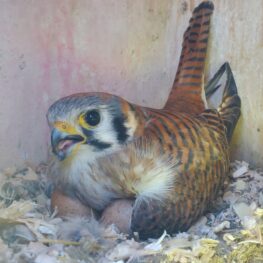 Five years after launching a project to help the recovery of the threatened American kestrel – New Jersey's smallest falcon species – Raritan Headwaters Association (RHA) is seeing success at nest boxes installed in the Upper Raritan River watershed. "This was a boom year for kestrels" with 18 kestrel chicks banded in our boxes, said Dr. Kristi MacDonald, RHA's science director. "It was great to see, because this may mean their population is increasing."
Kestrels were once common in the 470-square-mile watershed, which covers parts of Somerset, Hunterdon and Morris counties. But over the past 50 years, populations plummeted by over 80 percent in the northeastern United States, mostly due to habitat loss and a shortage of natural nesting cavities. Pesticides may have contributed to the decline by reducing food sources like insects and rodents.
Kestrels nest in cavities but, unlike woodpeckers, they aren't able to excavate their own. Instead, they use old woodpecker holes and natural hollows in mature trees in open habitats. These places have become scarce due to increased development, as well as farming practices in which trees and brush between fields are cut down. Kestrels also face competition for nest cavities from other birds, including European starlings, an invasive, non-native species.
Hoping to help kestrels make a comeback, RHA began collaborating in 2018 with the New Jersey Department of Environmental Protection's Endangered and Nongame Species Program (ENSP) to provide more local nesting places. Kestrels will use wooden nest boxes if they're placed at the right height on trees or poles in areas like meadows and pastures. There are many other birds as well as pollinators that need the same open habitat as kestrels.
After signing on local project partners – including nonprofit land trusts, public park managers, private landowners and farmers – RHA began installing and monitoring its first 18 kestrel nest boxes in the spring of 2019. Every year since then, the number of boxes has increased but we had not seen an increase in the number of nesting kestrels until this year.
By this spring, the number of nest boxes had grown to 40, providing a variety of locations available for discovery by breeding birds. To the delight of all partners, eight nesting kestrel pairs found RHA's boxes and hatched chicks this spring.
All nests are monitored regularly by volunteers, and the chicks banded by Bill Pitts, senior wildlife biologist for the ENSP. Data from the kestrel project will be used to advance conservation science, as it is added to ENSP's kestrel data from throughout New Jersey.
"The goal is to get more people involved in putting up boxes on their property," said Dr. MacDonald. "Kestrels are a flagship species for the watershed and help us engage people in understanding the connection between what happens on the land and the health of our water."
The kestrel project is important, she said, in teaching landowners about best management practices for protecting clean water and helping all wildlife species.
The Raritan Headwaters Kestrel Partnership is also popular among volunteer monitors and nest box builders. "We had an Eagle Scout build 20 boxes a few years ago, and now we've got another Eagle Scout interested in building 25 more," said Dr. MacDonald. "The more kestrel boxes we have out there, the more impact we can make on the survival of this beautiful little bird species."
Learn more here about the Kestrel Partnership and other ways you can join RHA in protecting land, water and biodiversity in the Upper Raritan River watershed.