COVID-19 STATEMENT: Camp is open for 2020, with limited registration for each session. Please contact Lauren with any questions or if you'd like to be added to our Nature Day Camp contact list.
All Sessions are Full.

Please contact Lauren at ltheis@raritanheadwaters.org to be added to the waitlist.
Fresh air, muddy feet and new friends are all part of what makes our Nature Day Camp so special!
Each summer, children ages 3 to 13 come to Fairview Farm Wildlife Preserve in Gladstone, where 170 acres of forests, meadows, streams and a pond invite young explorers outdoors. Our camp is tech-free, so campers and counselors are fully present and interactive!
Each day at Nature Day Camp is a magical experience. Structured and unstructured play time allow children to interact on their own terms with nature. Curiosity and wonder abound, and our activities, crafts, games and storytelling provide positive outdoor experiences and memories that last a lifetime!
The Basics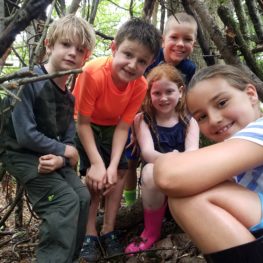 We offer week-long day camps in July and August for children ages 3 to 13.
Our friendly and experienced camp counselors are First Aid and CPR certified.
Campers should dress for outdoor play and bring a change of clothes (including a bathing suit), a nut-free lunch and snack, and a reusable water bottle. Bug spray and sunscreen should be applied at home, and tick checks performed at home at the end of each day.
Camp is held rain or shine! We have plenty of indoor education space, but kids should be sure to bring a raincoat and boots for outdoor fun on rainy days.
Your online registration form includes emergency contact and allergy information for each camper.
Please contact us for information on before and after care
Need-Based Scholarships are available, contact us for an application
Junior Counselors are needed each session. A great way for teens to earn community service hours and have fun! Please contact us to find out more information. Camp alumni are encouraged to apply!
Discounts: Receive a 10% discount when you register more than one camper and/or for multiple weeks of camp! Enter Promo Code "LOVECAMP2020" during registration to redeem your discount!
For more information, contact Director of Education, Lauren Theis
Honey Bees (Ages 3 to 4): Multiple Weeks, 9:00 am - 12:30 pm (full)
Red Squirrels (Ages 5 to 6): Multiple Weeks, 10:00 am to 2:00 pm (full)
Tree Frogs (Ages 7 to 10): Multiple Weeks, 10:00 am - 2:00 pm (full)
Farm Camp (Ages 10 to 12): July 13-17, 8:00 am - 2:00 pm - Cancelled
Animal Spirit Camp (Ages 5-9): July 20-24, 10:00 am - 2:00 pm (full)
Drawing in Nature (Ages 10-14): July 20-24, 9:00 am - 2:00 pm (full)
Photo Camp (Ages 10-13): July 27-31, 10:00 am - 2:00 pm (full)
Please contact Lauren at ltheis@raritanheadwaters.org to be added to the waitlist.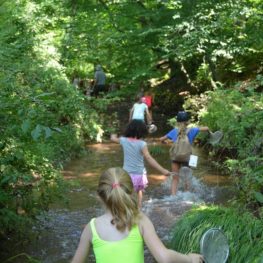 It is worth your time to enter the wild. In the wild, the brain is working at full capacity, mapping out the next step while rapidly assessing the risk. The body is constantly making adjustments, adapting to the slick rock or the unstable surface. Nature time isn't just for leisure. It is for building robust brains and agile bodies. It is for emotional development and for bringing respite and delight. It is for the whole child. -Ginny Yurich.
Read more about Ginny and 1000 Hours Outside here.