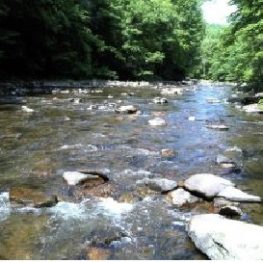 Raritan Headwaters Association (RHA), the region's watershed watchdog, is celebrating its 60th anniversary this year.
In preparation for the group's annual member meeting, the staff was asked to compile statistics on the organization's impact in the upper Raritan River watershed. The watershed region is all the land draining into the North and South Branches and dozens of tributary streams.
"Our staff collects metrics all year round so we can share with the public the impact we're making," said Cindy Ehrenclou, executive director. "We're very proud of what we accomplished in the past year."
The latest numbers were unveiled at the meeting on Feb. 28. Here are some highlights:
8 million people in central New Jersey depend on drinking water originating from headwaters streams in the upper Raritan River region;
The 470-square-mile region includes 1,404 miles of stream flowing through 38 municipalities in Hunterdon, Somerset and Morris counties;
74 stream sites are monitored annually for water quality by 174 citizen scientists;
Last year, 1,742 volunteers removed 14 tons of trash from 50 stream sites during RHA's annual Stream Cleanup Day;
Volunteers and staff members planted 1,215 trees in 2018;
In 2018, 15,611 children were educated at RHA's nature camps, school programs and family programs;
In 2018, 6,311 well tests were conducted through RHA programs to detect potential contaminants in drinking water; 80 percent of watershed residents rely on groundwater;
A total of 2,200 volunteers contributed 9,734 hours of service to Raritan Headwaters in 2018;
Raritan Headwaters kept 385 elected officials informed of legislation and policies affecting water quality in 2018.
Volunteers for this year's Stream Cleanup Day on Saturday, April 13, are still needed. Learn more and register here. For information, email streamcleanup@raritanheadwaters.org.
About Raritan Headwaters
Raritan Headwaters was formed by the 2011 merger of the South Branch Watershed Association and Upper Raritan Watershed Association, both founded in 1959. Raritan Headwaters will celebrate its 60th anniversary with a gala event on Sept. 21.
Raritan Headwaters works to protect, preserve and improve water quality and other natural resources of the Raritan River headwaters region through efforts in science, education, advocacy, land preservation and stewardship. RHA's 470-square-mile region provides clean drinking water to 300,000 residents of 38 municipalities in Somerset, Hunterdon and Morris counties and beyond to some 1.5 million homes and businesses in New Jersey's densely populated urban areas.
Raritan Headwaters recently was accredited by the national Land Trust Accreditation Commission, meaning it has been recognized as a strong and effective organization committed to professional excellence and maintaining the public's trust.
To learn more about Raritan Headwaters and its programs, please visit www.raritanheadwaters.org or call 908-234-1852.