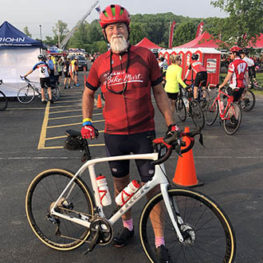 The Garden State Fondo, New Jersey's largest bicycling fundraiser and one of the nation's top-ranked cycling events, will draw an estimated 2,500 riders from 30 states and several countries when it takes off from the Morristown Green on Sunday, Sept. 8.
One out-of-state cyclist will be John Lee, who plans to fly up from Dallas, Texas to join the team riding for Raritan Headwaters Association (RHA) – one of the beneficiaries of the event.
Lee, 67, grew up in Mendham Township but has lived his adult life out of state, including Dallas for the past 25 years. He still has fond memories of his boyhood years enjoying the rivers, streams and rural backroads of the upper Raritan River watershed.
"I remember walking down to the swamp near our house and it was so clean," he recalled. "On Sundays I would go down and harvest watercress and we would eat it that day." He also remembers hanging out and canoeing at Ravine Lake in Far Hills, which is fed by the North Branch of the Raritan.
Lee has been a serious bicyclist for more than a decade and averages at least 5,000 miles a year. "My highest yearly total is 6,200 miles," he said. "The only times when I don't ride is when it's below freezing with snow." He participates in bicycling fundraisers throughout Texas and beyond.
So when his old friends Cindy and John Ehrenclou asked if he'd be interested in coming to New Jersey for the Garden State Fondo, he readily agreed.
"I ride as many fundraising rides as I can because they're all for a very good cause," said Lee, who plans to ship his own bike to New Jersey. "I know Raritan Headwaters is doing a very good job at educating people about water quality and I want to support that."
The Garden State Fondo covers over 140 miles of roads through 25 municipalities in Morris, Somerset, and Hunterdon counties – including much Raritan Headwaters' region. The event offers six routes ranging in length from the 18-mile "Breve" to the 125-mile "Estremo."
Lee plans to ride the 62-mile "Medio" route, which the editors of Bicycling Magazine named as one of "The 50 Best Rides in America." The route takes riders through quaint hamlets and past farms, country estates and secluded lakes and streams.
Lee is especially interested to cycle the roads in Mendham, Gladstone, Far Hills and Bernardsville where he spent so much of his childhood. "I haven't ridden a bike in New Jersey in 50-some years," he noted. "I'm looking forward to seeing if I'm going to recognize anything." Thanks in part to RHA's work to preserve the countryside, Lee might find that the landscape he knew growing up hasn't changed that much.
Cindy Ehrenclou, executive director of Raritan Headwaters, thanked Lee for joining Team RHA. "To say the least, he's going to enormous lengths to raise funds for Raritan Headwaters' conservation mission," she said. "We're incredibly grateful for his help."
A fondo – Italian for ride – is a mass participation bicycling event that was first popularized in Europe. It's a ride, not a race, and participants challenge themselves against the clock.
Founded in 2011 as the Gran Fondo NJ, the Garden State Fondo is the brainchild of the late Marty Epstein, owner of Marty's Reliable Cycle in Morristown, who passed away on May 2 after a battle with cancer. Since 2011, the event has raised $1.5 million for charity. This year's Fondo is dedicated to Epstein.
Bedminster-based Raritan Headwaters was chosen this year as one of five official beneficiaries of the Garden State Fondo.
It's not too late to join Team RHA and ride in the Garden State Fondo. Sign up here. Riders must pay their own registration fees, which vary by route.
For more information about Team RHA, contact Blake Putnam at bputnam@raritanheadwaters.org or call 908-234-1852, ext. 320.
About Raritan Headwaters
Raritan Headwaters has been working since 1959 to protect, preserve and improve water quality and other natural resources of the Raritan River headwaters region through efforts in science, education, advocacy, land preservation and stewardship. RHA's 470-square-mile region provides clean drinking water to 300,000 residents of 38 municipalities in Somerset, Hunterdon and Morris counties and beyond to some 1.5 million homes and businesses in New Jersey's densely populated urban areas.
Raritan Headwaters is accredited by the national Land Trust Accreditation Commission, meaning it has been recognized as a strong and effective organization committed to professional excellence and maintaining the public's trust.
To learn more about Raritan Headwaters and its programs, please visit www.raritanheadwaters.org or call 908-234-1852.