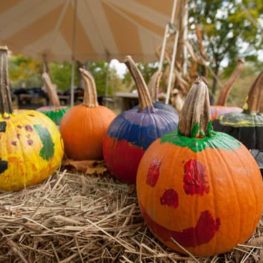 Clydesdale horses, live music, kids' activities and delicious food are all on tap for Sunday, Oct. 13, when Raritan Headwaters Association (RHA) hosts its 40th annual Old Fashioned Country Fair from 11:30 a.m. to 4 p.m.
"Country Fair has been a tradition in the Somerset Hills since 1980," said Cindy Ehrenclou, executive director. "We invite the entire community to come out and enjoy this unique fall celebration.  It's a fun family day that supports a great cause – clean water."
The Country Fair will be held at the Fairview Farm Wildlife Preserve, RHA's headquarters, at 2121 Larger Cross Road, Bedminster.
Highlights of this year's Country Fair include:
Live music by the Cirotti Trio;
Wagon rides with Willow Grove Farm's team of Clydesdale horses;
Food by BEX Eatery and frozen treats by Penguin Ice Cream;
Children's games and activities, including pumpkin painting, clean river race game and scarecrow dressing;
Local artisans and farmers sharing and selling their wares, including Flipside Farm, Dogwood Farm, Long Note Farm, Mount Lebanon Soap Company and Neshanic Station Apiary.
Fly fishing demonstrations by Bill Kibler, RHA's policy director and an avid fly fisherman.
Other Country Fair activities include beekeeper demonstrations, farm animals and appearances by the Raptor Trust, Tewksbury Foot Bassets, Essex Fox Hounds, Woodlands Wildlife Refuge and Somerset County Environmental Education Center. The Somerset Hills Garden Club will again have a table where fairgoers can make wildflower "seed bombs" to take home, and the Daughters of the American Revolution will sell home-baked treats.
Admission to the Old Fashioned Country Fair is $25 per vehicle. Learn more and pre-pay online. For more information or to become an event sponsor, contact Blake Putnam at bputnam@raritanheadwaters.org or 908-234-1852, ext. 320.
Proceeds from the Country Fair support RHA's mission of protecting the water in local rivers, streams and homes through environmental education, community well testing, stream monitoring and cleanup, research, and open space preservation.
About Raritan Headwaters
Raritan Headwaters, which is celebrating its 60th anniversary this year, has been working since 1959 to protect, preserve and improve water quality and other natural resources of the Raritan River headwaters region through efforts in science, education, advocacy, land preservation and stewardship.
RHA's 470-square-mile region provides clean drinking water to 300,000 residents of 38 municipalities in Somerset, Hunterdon and Morris counties and beyond to some 1.5 million homes and businesses in New Jersey's densely populated urban areas.
To learn more about Raritan Headwaters and its programs, please visit www.raritanheadwaters.org or call 908-234-1852.