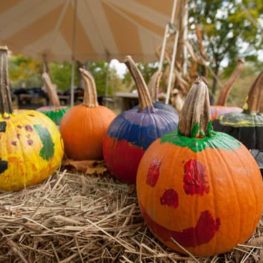 The 40th anniversary celebration of Raritan Headwaters Association's Old- Fashioned Country Fair has been postponed to October 2021 due to the ongoing Covid-19 pandemic.
"Country Fair has become a favorite autumn tradition in the Somerset Hills, and we've tried for months to find a way to hold the event while ensuring the safety of the public, staff and volunteers," said Cindy Ehrenclou, executive director of the watershed watchdog. "Sadly, we've come to the conclusion that our 40th annual Country Fair will have to wait. We look forward to inviting everyone to join us at Fairview Farm in October 2021."
Modeled after a British field sports day, the fair was founded in 1980 and has grown over the years to become an important public outreach and fundraising event for Raritan Headwaters Association (RHA). Popular attractions include hayrides, pumpkin painting, scarecrow building, a field maze, sheep herding demonstrations, delicious food, live music and local artisans.
Although Country Fair's traditional fall festivities have been postponed, RHA's Fairview Farm Wildlife Preserve at 2121 Larger Cross Road, Bedminster, is still open every day from dawn to dusk. A former dairy farm, the 170-acre property includes miles of marked trails through woods and meadows, a bird and butterfly garden, a farm pond where catch-and-release fishing is allowed, and a restored historic barn complex.
"Fall is a beautiful time to visit Fairview Farm," said Ehrenclou. "We invite the public to come walk our trails, stroll through our bird and butterfly garden, throw a line in our pond, or simply sit and enjoy the sights and sounds of birds and wildlife as they nestle in or pass through on their fall migration."
Fairview Farm is owned and operated by Raritan Headwaters and is supported by individual donations.
Area residents who wish to support RHA are invited to take part in the Headwaters Hero 5K, a virtual running, walking and bicycling event from Saturday, Sept. 26, through Sunday, Oct. 4. Participants can register at https://www.raritanheadwaters.org/event/headwaters-hero-5k/, choose their favorite 3.1-mile route, and complete it at the date and time they choose. Participants will receive a Raritan Headwaters reusable tote bag as a thank-you gift.
The Headwaters Hero 5K will support RHA's work to protect clean water in the upper Raritan River watershed in Hunterdon, Somerset and Morris counties through education, science, advocacy, land stewardship and preservation. "The pandemic is creating many fundraising challenges, and we're so grateful to all the Headwaters Heroes who are helping us protect 1,404 miles of streams in the watershed," said Ehrenclou.
About Raritan Headwaters
Raritan Headwaters has been working since 1959 to protect, preserve and improve water quality and other natural resources of the Raritan River headwaters region through efforts in science, education, advocacy, land preservation and stewardship. RHA's 470-square-mile region provides clean drinking water to 300,000 residents of 38 municipalities in Somerset, Hunterdon and Morris counties and beyond to some 1.5 million homes and businesses in New Jersey's densely populated urban areas.
To learn more about Raritan Headwaters and its programs, please visit www.raritanheadwaters.org or call 908-234-1852.